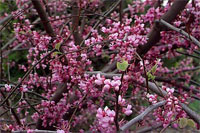 Orders are now being accepted for the 2018 Seedling Sale!
This year's seedling sale features shrubs and trees that are tolerant of deer browse. While no plant is completely deer-proof, these species are less susceptible. They help clean our water and air, prevent soil erosion, provide valuable habitat, and add beauty and resilience to your landscape. Enjoy!
The Shrub and Small Tree Package features 10 seedlings for $16.95. The Tree Package includes 6 seedlings sold for $11.95. A full, nonrefundable payment must accompany your order by Wednesday, April 11, or until supplies run out. Orders may be picked up on Friday, April 20, 9:00 a.m.-4:00 p.m., or Saturday, April 21, 9:00 a.m.-noon at the Packard Center, 4022 Hummer Road, Annandale.
Help us streamline our operations by paying online with a credit card, debit card or e-check. Orders for 2018 seedling packages open February 1. Please follow this link to our online seedling sale store.  View online seedling sale store: http://nvswcd-velocitypayment-com.3dcartstores.com/
The Shrub and Small Tree Package includes two each of:
Witchhazel
False Indigobush
Serviceberry
Silky Dogwood
Spicebush
The Tree Package includes two each of:
Redbud
Pawpaw
Shortleaf Pine
For more information about the seedlings or the sale, see: Native Seedling Sale