Welcome to the inaugural summer season of Springfield Nights! I am very excited to offer this series of free musical performances that presents a wide array of bluegrass, pop, rock and R&B music, as well as children's entertainment. I am especially proud to showcase the talented Fairfax County high school musicians who will open each show! Our setting is beautiful Burke Lake Park. The atmosphere is informal so bring a picnic dinner, blankets and lawn chairs and relax with friends and family. Volunteers are always welcome! For more information, please contact my office at 703-451-8873.
I look forward to seeing you this summer.
Sincerely,
Pat Herrity
Springfield District Supervisor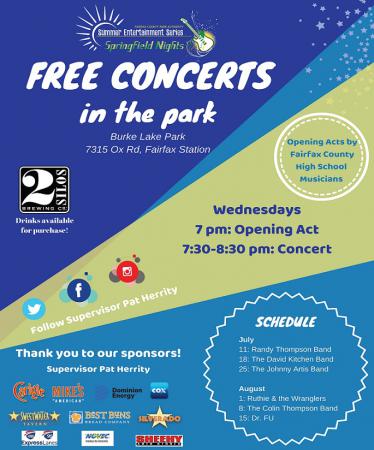 Burke Lake Park:
7315 Ox Rd, Fairfax Station
Rain Cancellations:
For last minute performance cancellations due to inclement weather, call the HOTLINE at 703-324-SHOW (7469) one hour prior to the program start time.
Email Sign Up:
Sign up to receive the latest news on the concert series and other events hosted by Supervisor Herrity and Fairfax County
Dates/Acts, Wednesday Nights, 7 pm:
Click on the band for more information
July 11 – Randy Thompson Band (Americana/Roots Rock)
July 18 – The David Kitchen Band (Pop/Rock)
July 25 – The Johnny Artis Band (R&B)
August 1 – Ruthie & the Wranglers (American Roots)
August 8 – The Colin Thompson Band (Blues/Rock)
August 15 – Dr. FU (Rock/Cover Band)