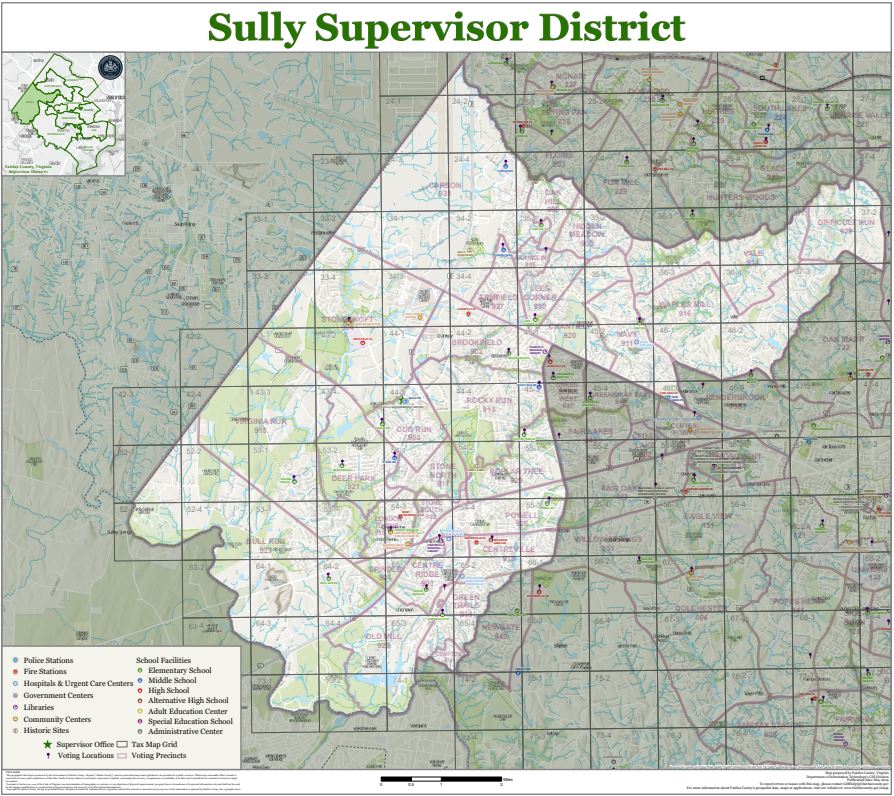 The Sully District, created after the 1990 Census, is a historical community that is moving fast into the future! The Sully District comprises the area of western Fairfax County.
In addition, community spirit abounds in the Sully District! Citizens and local business leaders help to direct the issues that affect the community such as, education, transportation, land use, and public safety. The commitment and dedication of the Sully District residents make it a wonderful place to live, work, and raise a family.
Be sure to check this site periodically for updates on events and pertinent information affecting Sully District residents.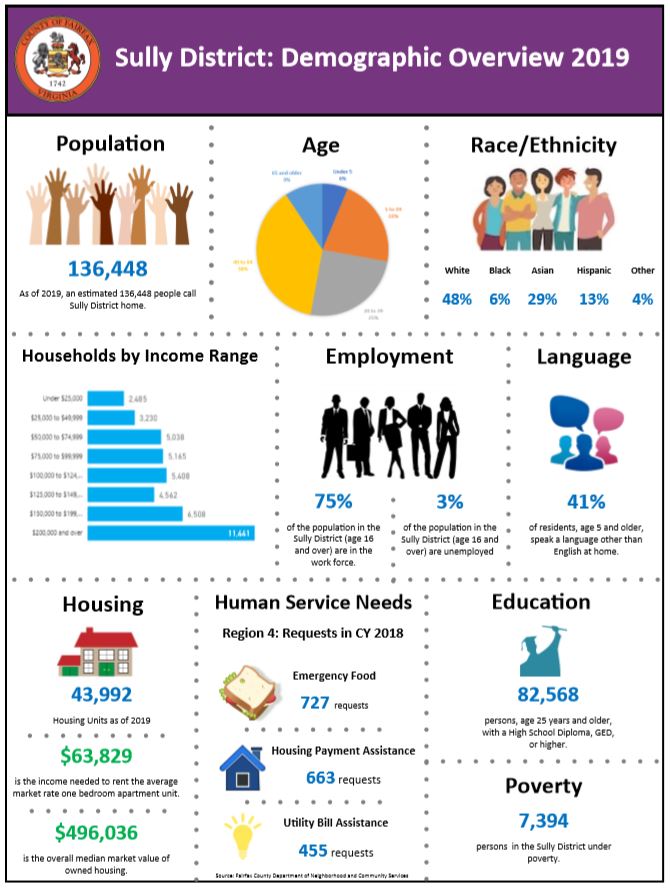 Demographics
There are an estimated 136,448 individuals living in the Sully District as of 2019. An increase of 1,897 individuals from 2018.

40.9% of residents, age 5 and older, speak a language other than English at home.

50.4% of residents are female, and 49.6% of residents are male.

27.9% of residents are children and youth under age 20. 9.4% of residents are seniors age 65 and older.
Economics
Of the 87,237 residents age 25 and older: 82,568 (95%) have attained a High School Diploma, GED, or higher.
Of the 101,528 residents age 16 and older: 72,258 (71%) are civilian employed, 3,304 (3%) are unemployed, 25,493 (25%) are not in the work force, and 473 (less than 1%) are members of the Armed Forces.
Of the 43,837 households: 27,919 (64%) make over $100,000.
Out of 136,448 residents, 7,394 (5.4%) live under federal poverty levels. 
Housing
$496,036 is the overall median market value of owned housing. An increase of $17,000 from 2018.

1,763 square feet is the median size of owned housing.

$63,829 is the annual income needed to rent the average market rate one bedroom apartment unit. An increase of $3,962 from 2018. 

Of the 43,992 housing units in the Sully District: 21,340 (49%) are single family detached units, 14,344 (33%) are townhouses, 1,640 (4%) are multiplex units, 5,492 (12%) are multifamily low-rise units, 686 (2%) are multifamily mid-rise units, and 490 (1%) are mobile homes.
Resources