8 Ways to Beat the Heat
Extreme heat and high humidity can be deadly, slowing evaporation and requiring the body to work harder just to maintain a comfortable temperature.
Overexposure to heat or overexertion (too much exercise or effort) can trigger a heat disorder. Children, older adults, those who are sick or overweight are all at increased risk.
Cooling Assistance Program
The Cooling Assistance program helps keep Fairfax County residents cool during the summer months through:
Payment of electric bills to operate cooling equipment.
Payment of security deposits for electricity to operate cooling equipment for accounts in danger of being disconnected or when a deposit is needed to begin service.
Repair of a central air conditioning system or heat pump.
Purchase of a whole-house fan, including ceiling or attic fans.
Purchase and installation, or self-pick-up, of one air conditioning unit (window or portable).
To be eligible, at least one household member must be: 60 or older; 5 or younger; or disabled according to Social Security, Medicaid or 100% Veteran's Administration.
Stay Informed with Fairfax Alerts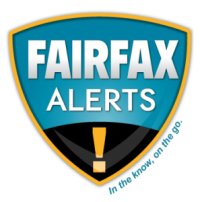 Sign up for emergency alerts from Fairfax Alerts so you are aware of:
 
Public Safety, Traffic, Weather Alerts
Police Notifications
Emergency Preparedness Drills/Exercises
Emergency Preparedness Newsletters
Functional Needs Registry for Residents with Access and Functional Needs

It's simple. If we can't reach you, we can't alert you.