News and Updates
Updated South Lakes Drive Restriping Proposal - May 11, 2018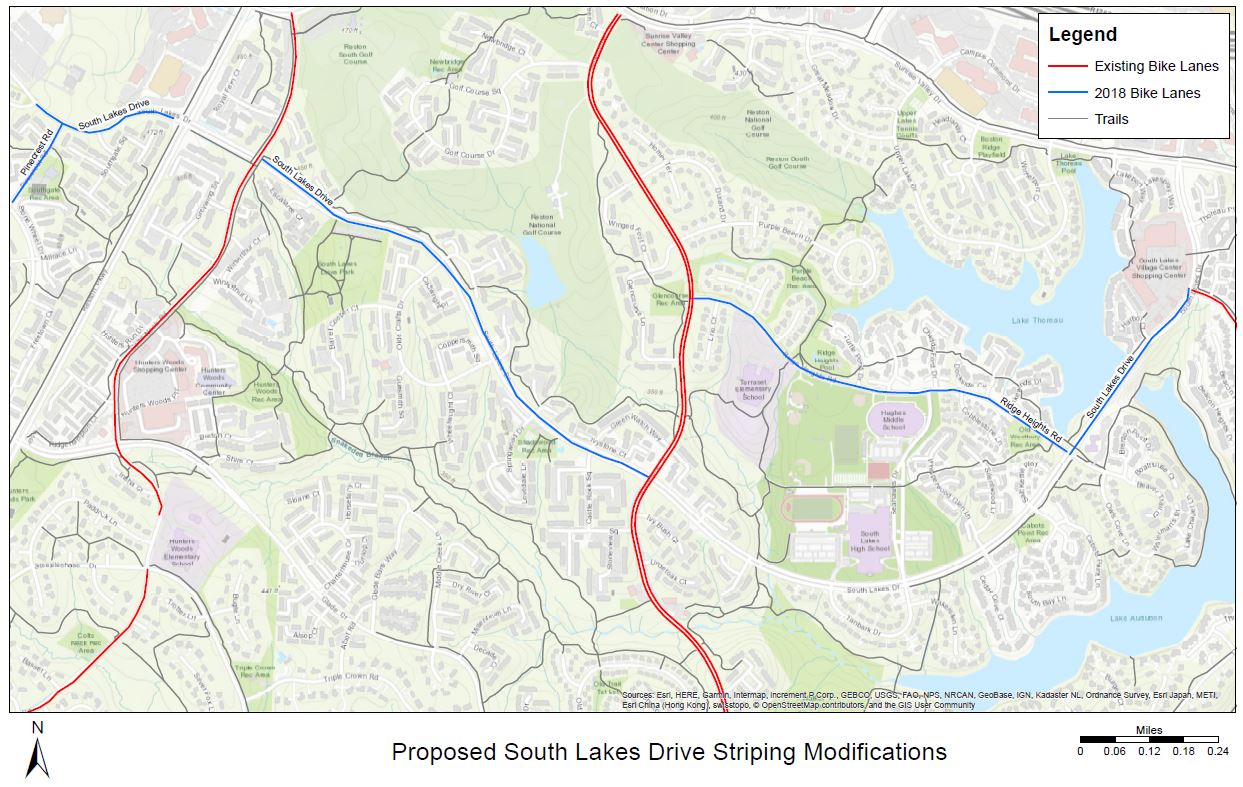 Based on community feedback and further traffic analysis, the original proposal to restripe South Lakes Drive between Reston Parkway and Sunrise Valley Drive as a two lane road with buffered bike lanes has been modified.
Four travel lanes will be maintained between Reston Parkway and Colts Neck Road; between Soapstone Drive and Ridge Heights Road; and Twin Branches Road and Sunrise Valley Drive,
The on-street bike route will connect the Colts Neck Road bike lanes with the Twin Branches Road bike lanes, with a signed detour via Soapstone Drive bike lanes and the new Ridge Heights bike lanes.
Metro or W&OD bound cyclists will be able to continue to their destination on a designated shared lane or existing trails.
This compromise solution will create a safer east-west bike route and address many of the road safety concerns. It is not expected to negatively affect traffic.
Community Meeting Held March 19; Comment Period Closed April 6, 2018
VDOT and FCDOT held a public meeting on proposed paving and restriping changes in the Hunter Mill District on Monday, March 19, 7 p.m., in the Terraset Elementary School cafeteria. Community members were invited to give feedback on general traffic safety concerns regarding roads scheduled for repaving and the proposed striping changes either at the meeting or by submitting comments online.
Please note that no additional roads can be added to the paving schedule at this time; any suggestions for new paving and restriping changes will be saved for future planning.
Background
The Virginia Department of Transportation (VDOT) has scheduled several roads in the Hunter Mill District for repaving in 2018. The paving will take place starting in April and concluding in November 2018. Exact work dates are available about ten days prior to work beginning, as contractors set schedules based on personnel and equipment availability. In subdivisions, "no parking" signs with precise date information will be posted at least three business days prior to work starting. Residents can expect work vehicles in their neighborhood during the project. Motorists are asked to be alert to temporary traffic patterns. Cars, basketball hoops or garbage cans may need to be temporarily relocated while work is under way. Work hours are usually limited to outside of rush hours. Crews typically work on neighborhood streets weekdays from 9 a.m. to 3 p.m. On other roads such as interstates and some primaries, work may occur overnight.
See VDOT's interactive paving map for more information on road specific project status and contact information, which is updated weekly during the paving season.
* Projects may need to be postponed to 2019 due to inclement weather or other reasons.
 
Additional Information