Project News and Updates
Community Meeting Held June 29; Public Comments Due July 13, 2017
Fairfax County Department of Transportation (FCDOT) held a community meeting regarding the Innovation Center Station North-Side Shared-Use Path Feasibility study (Dranesville Distrct) on Thursday, June 29, in the cafeteria of Herndon Middle School, 901 Locust Street, Herndon, at 6:30 p.m.
The meeting began with time to time to review boards showing three different conceptual alternatives for the path alignment, followed by a formal presentation at 7 p.m.
The public is invited to submit comments on the project by writing to FCDOT, 4050 Legato Road, Suite 400, Fairfax, VA 22033; sending feedback via the online form on this webpage; or calling 703-877-5600. Comments are due by close of business, Thursday, July 13.
Project Background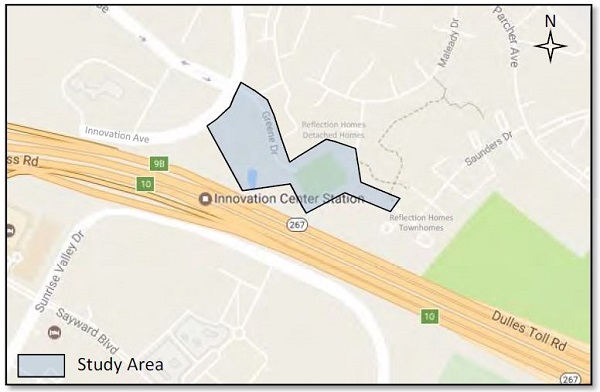 For further information about Metro and related development, see the Silver Line page and the Innovation Center Station Garage page with the Department of Public Works and Environmental Services. Please note the north-side path is on the opposite side of the Toll Road from the garage, and is a different project. The meeting will focus on the path and connectivity north of the station.
FCDOT ensures nondiscrimination in all programs and activities in accordance with Title VI of the Civil Rights Act of 1964 and the Americans with Disabilities Act (ADA). If you need this information in an alternate format, contact FCDOT at 703-877-5600, TTY 711. Requests for assistance must be received at least 7 business days in advance of an event.