Application Overview

                                                                      

Key Documents / Links
Area: 5.75 Acres                                                                                         ZAPS Overview
Status: Approved                                                                                       Current Plan
Applicant Name: Amherst Property, Inc.
Application Information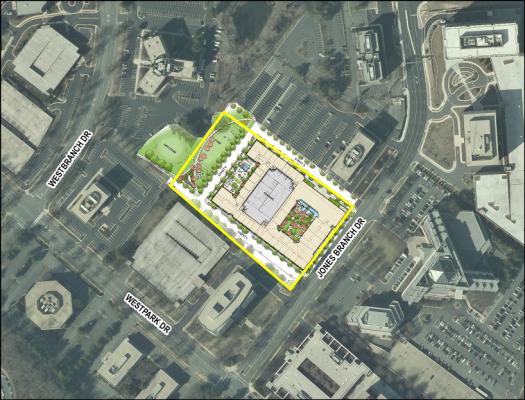 The subject site contained a vacant office building surrounded by surface parking. The rezoning application approved redevelopment for the site into a mid-rise residential building with limited retail at the ground level. The building was approved to be between 5-7 stories with up to 400 residential units, and was built with six stories and 398 units. An FDP covers the entire site and shows all proposed improvements.
Major transportation improvements with the application area include three new streets, including an offsite connection between Jones Branch and West Branch Drives, and proffered contributions to the Tysons-wide and Tysons Grid of Streets transportation funds. The applicant will also provide an offsite pedestrian connection from its site to Westpark Drive and the Arbor Row development; this path will provide a pedestrian connection to metro.
The application includes on and off-site park improvements including a dog park, commons and pathways. In addition, the building has private, above grade plaza amenities for the use of the residents. The public park features are intended to be the first phase of a larger park, as recommended in the Comprehensive Plan. It is expected that additions to this park will come with future redevelopment of the surrounding office park.
To address the Plan's public facility objective, the applicant has extended the proffered use of space in a nearby building for an additional 10 years. This space currently serves fire and rescue operations and community meeting space.
The applicant has further committed to meet the LEED standards and stormwater management goals referenced in the Comprehensive Plan. A stream stabilization project has been completed along an unnamed tributary of Scotts Run, between Westpark Drive and Jones Branch Drive.
PCA 2014-PR-004 has been filed and is moving concurrently with RZ 2017-PR-015 (The Mile). The purpose of this application is to move the previously approved off-site proffers over to The Mile property.
Related Cases