Application Overview

                                                                      

Key Documents / Links
Area: 19.40 Acres                                                                                      Current Plan                                                                                
Status: Approved                                                                                       ZAPS Overview                                                                                
Applicant Name: Cityline Partners LLC
Application Information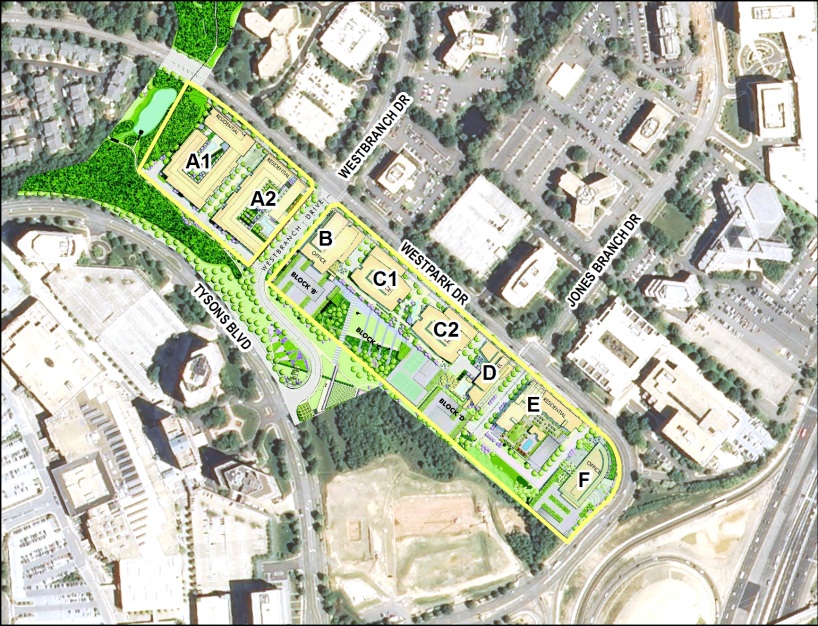 The approved rezoning will allow redevelopment of six parcels, characterized by 1970s era office buildings, into a mixed-use development containing office, hotel, residential, and retail uses in up to eight new buildings. Building heights range from 120 to 300 feet. FDPs were approved on Block A for two residential buildings (FDP 2011-PR-023), Block E for a residential building (FDP 2011-PR-023-3), Block F for an office building (FDP 2011-PR-023-2), and Block D for a for-sale residential building (FDP 2011-PR-023-4).
The development is primarily accessed along existing public streets. Development of the application will improve Westpark Drive and Westbranch Drive to add bike lanes and on-street parking. The applicant also proffered contributions to the Tysons-wide and Tysons Grid of Streets transportation funds.
A large urban plaza is planned to be integrated into the development to create a focal point within the neighborhood and to serve as an extension of a previously proffered park to the southwest. An approximately 8-acre offsite parcel along Jones Branch Drive, the Hanover site, was dedicated to Fairfax County for athletic fields and a future elementary school site. The Hanover site was developed and delivered in 2015 as the Jones Branch Fields and Arbor Row Stream Valley Park containing a full-size rectangle field, a youth-size interim field, on-site parking, seating areas, and a small picnic gazebo.
The applicant has committed to meet the LEED standards and stormwater management goals referenced in the Comprehensive Plan. Additionally, in association with the Hanover site dedication, the applicant proffered to provide $500,000 worth of stream restoration work in the Arbor Row Stream Valley, adjacent to the Hanover site. This was completed in 2015.
Applications PCA/CDPA 2011-PR-023 and associated FDP 2011-PR-023-4 were approved to modify the previous approval on Block D from a hotel use to a residential use, anticipated to be built as residential condominiums. This is the first FDP reviewed in Tysons specifically for a for-sale residential product since the 2010 plan amendment.
Building E, the Nouvelle, is a 27-story residential building that was delivered in 2016.
PCA/CDPA 2011-PR-023-02 and FDP 2011-PR-023-05 have been filed on Blocks B and C1. These applications seek to replace two approved office buildings with a Life Plan Community, a mix of independent and assisted living, in two towers on top of a single, five-story podium.
Related Cases