Application Overview

                                                                      

Key Documents / Links
Area: 18.11 Acres                                                                                       ZAPS Overview
Status: Approved                                                                                       Current Plan
Applicant Name: TMG Solutions Plaza Land, LP
Application Information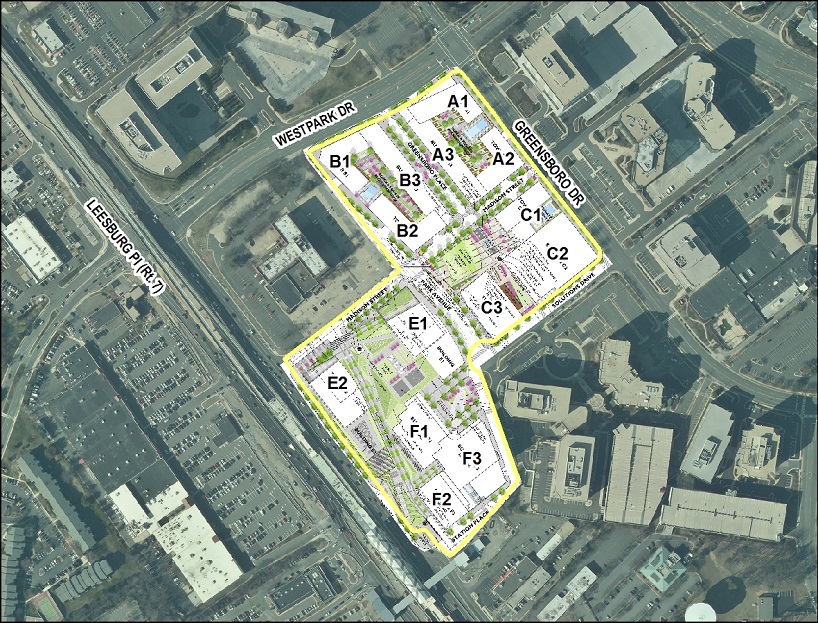 The subject site is currently developed with four office buildings and associated structured and surface parking. Under the approved redevelopment, twelve new buildings will be added; the three existing office buildings closest to Leesburg Pike and the Greensboro Metrorail Station will remain. The redevelopment will include a mix of uses, including office, hotel and residential with supporting retail including a movie theater and grocery store. Excluding the proposed park kiosk, building heights will range from 50 to 400 feet.
This application was reviewed in conjunction with RZ 2013-PR-009 (Westpark Plaza), which was initially included in the application, but subsequently separated into its own case.
Major transportation improvements include the creation of several new grid streets, the most significant of which is Park Avenue, running parallel to Greensboro Drive and Leesburg Pike. Park Avenue will be part of a crucial new collector that, in the long term, is intended to extend through the entire north side of Tysons. In addition, Station Place, a proposed local street, will provide improved access to the Greensboro Metro Station. The applicant has also proffered monetary contributions to the Tysons-wide and Tysons Grid of Streets transportation funds, as well as toward improvements to Route 7.
The approved layout includes seven on-site public parks, including four pocket parks and a promenade traversing Blocks E and F. The applicant has proffered to meet or exceed LEED Core and Shell Silver certification, and retain on-site and/or reuse the first inch of rainfall for all new buildings through such techniques as rainwater harvesting, green roofs, bio retention areas, and dry swales. As part of the redevelopment, the applicant has proffered to provide approximately 19,000 square feet of space to accommodate a new library within either Building E1 or E2. Separately, a special exception application was approved on 5/17/2016 to provide an athletic field off site (see Tysons Technology Center; SE 2015-PR-021).
PCA 2010-PR-022 amended previously approved proffers to increase allowable conversion of residential use to office use in building B3 from 60,000 sq. ft. to 85,000 sq. ft. With this proposal, the overall maximum square footage of GFA allocated to office does not change, nor are any changes proposed to the approved CDP or FDP.
Related Cases