Application Overview

                                                                      

Key Documents / Links
Area: 26.22 Acres                                                                                      ZAPS Overview
Status: Approved                                                                                      Capital One Design Guidelines
Applicant Name: Capital One Bank                                                       Current Plan
Application Information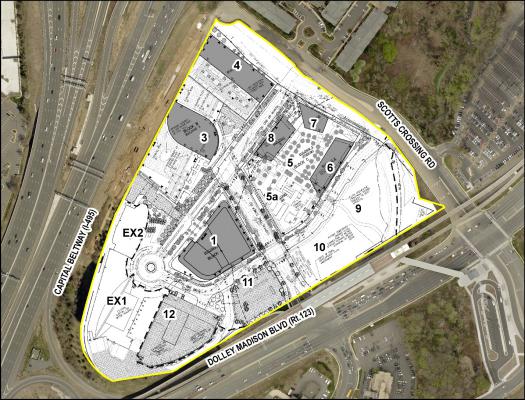 The site is currently developed with the Capital One office campus, including an office building, conference center and freestanding garage. Temporary athletic fields are constructed on the remainder of the site. As approved, the site will be redeveloped to a mixed-use development. The existing office building and conference center will remain, while 14 buildings with office, hotel, retail and residential uses will be added. Building heights range from 42.5 to 395 feet. An FDP application was also approved that included the existing development and the new construction for Block A. A Proffered Condition Amendment (PCA) application has been filed on the subject site and is currently under review, as discussed further below. Major transportation improvements approved with the rezoning include the dedication of right-of-way for the future Jones Branch Connector and contributions to the Tysons-wide and Tysons Grid of Streets transportation funds.
Park improvements approved under the rezoning include several on-site parks, including a small athletic field within Block C. In order to help the applicant fully address the athletic field need generated by the development, the County brokered a solution between the applicant and another rezoning applicant in Tysons East, the Commons. Under this arrangement, the Commons proffered to provide a full-size athletic field on its site to meet both its and the Common's field needs. In return, Capital One proffered to provide a 30,000 SF community center to satisfy both its and the Common's public facility requirements. As currently proffered, the community center would be located on the ground floor of Building 3. (See discussion of proposed amendment.) Finally, the applicant proffered to meet the LEED standards and stormwater management goals referenced in the Comprehensive Plan.
PCA/CDPA 2010-PR-021-02, approved in 2017, modified Blocks A, C and D. The modifications include the addition of a grocery store and a corporate center on Block C, as well as increased building heights and modified building footprints.
Related Cases