Application Overview

                                                                      

Key Documents / Links
Area: 20.96 Acres                                                                                      ZAPS Overview
Status: Approved                                                                                      Current Plan
Applicant Name: Commons of McLean
Application Information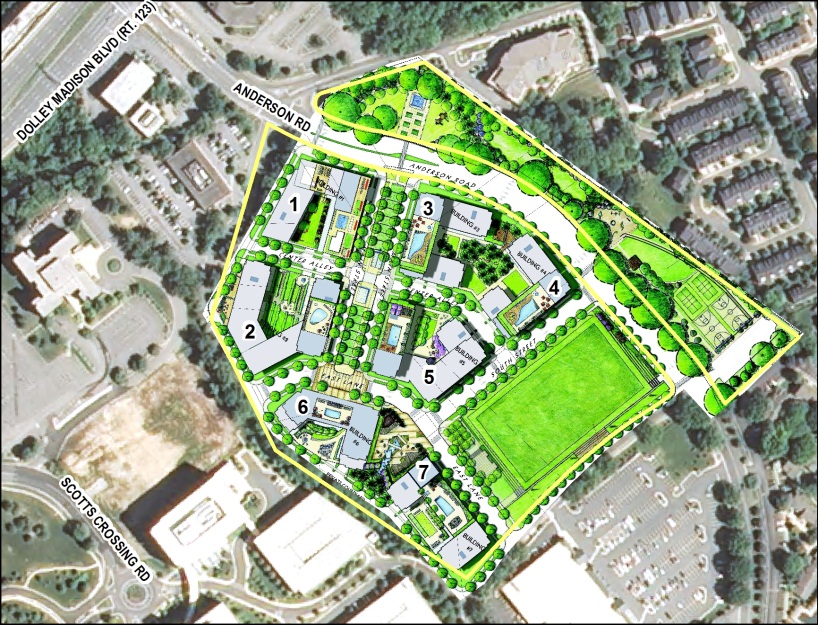 The subject site is currently developed with 13 low-rise garden apartment buildings known as "The Commons". Under the approved redevelopment, the existing residential structures will be replaced with seven new highrise residential buildings (while the applicant retained flexibility to provide lower buildings than the maximum shown, Buildings 4, 5 and 7 in particular include an option for a six story maximum). The plan depicts over nine acres of parkland, including a full size lit and synthetically-turfed athletic field. Building heights range from 75 to 240 feet in height. An FDP was approved for Building 1.
Major transportation improvements include the extension of Colshire Meadow Drive to Anderson Road and improvements to the Old Chain Bridge Road/Anderson Road/Colshire Meadow Drive intersection. In addition, the applicant proffered to contribute funds toward construction of the "Super Boulevard" improvements along Dolley Madison Boulevard. The applicant has proffered contributions to the Tysons-wide and Tysons Grid of Street transportation funds.
In addition to pocket parks and rooftop recreational amenities, the applicant proposes two major on-site parks. The first, Anderson Park, will be located on the east side of Anderson Road and contain two play areas, two dog parks and four sports courts. The second park, Goodman Field, will be located to the north of Colshire Drive and will contain a full-size, turfed and lit athletic field. This field satisfies the athletic field needs generated by both the Commons and Capital One. As discussed previously, Capital One will provide a 30,000 SF community center to satisfy the public facility requirements of both applications. The applicant has committed to meet the LEED standards and stormwater management goals referenced in the Comprehensive Plan.
Related Cases