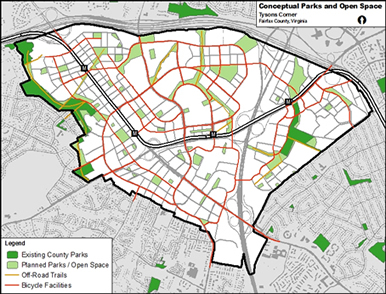 Parks, recreation and open space are essential throughout Tysons to provide a high quality of life by contributing economic, social and health benefits. The vision for Tysons includes a conceptual park network (PDF), a comprehensive system of parks, natural areas and open spaces that provide outdoor enjoyment and recreation opportunities. The network is envisioned to be connected throughout Tysons' eight districts via greenways, landscaped streets and trails. The network will integrate new large and small urban parks with existing environmentally sensitive areas and other built elements to create safe pedestrian and bicycle-friendly pathways throughout all neighborhoods. These pathways will link to transit stations, pedestrian ways, bike trails, shopping and entertainment areas, offices and residential areas. Outdoor recreational areas should support and foster casual outdoor enjoyment and social interaction as well as sports and recreation activities
Major elements of the park network include the following:
Stream valley parks along Scotts Run and Old Courthouse Spring Branch that provide natural buffers and potential connectivity to and throughout Tysons.
Cultural resource parks that provide historical points of interest in small park settings.
A large central "signature" park in the Tysons Central 7 South Subdistrict that is large enough to support public, community, and cultural events and may be located adjacent to a civic building.
An 8 to 10 acre multipurpose park in the North Central District that provides passive enjoyment areas, recreational facilities and civic gathering spaces and may be located adjacent to a new elementary school.
Multiple urban parks located throughout Tysons that provide a diversity of public spaces ranging in size, function, and character, and supporting formal and informal activities.
A network of trails that connect parks to the street grid for jogging, dog walking, biking, walking, and enjoying the outdoors.
Refinement of the Conceptual Park Network
A staff effort is underway to refine the park concept for the smaller, but more plentiful, urban parks contained in the Conceptual Park Network in the Comprehensive Plan, and to assess how they contribute to the goal of a comprehensive system of connected parks and open spaces. Staff is currently developing detailed concept plans for the park network on a district basis for Tysons. This process is being informed by submitted development proposals and the concurrent development of a Pedestrian Plan for Tysons.  The Pedestrian Plan under development will help identify appropriate locations for urban parks and ensure proper connectivity, and will also take into consideration submitted development proposals and urban park typology guidance provided in the Comprehensive Plan. Completion of the detailed park concepts is anticipated by the fall of 2011.