Application Overview

                                                                      

Key Documents / Links
Area: 7.63 Acres                                                                                         ZAPS Overview
Status: Approved                                                                                       Current Plan
Applicant Name: CARS-DB1, LLC
Application Information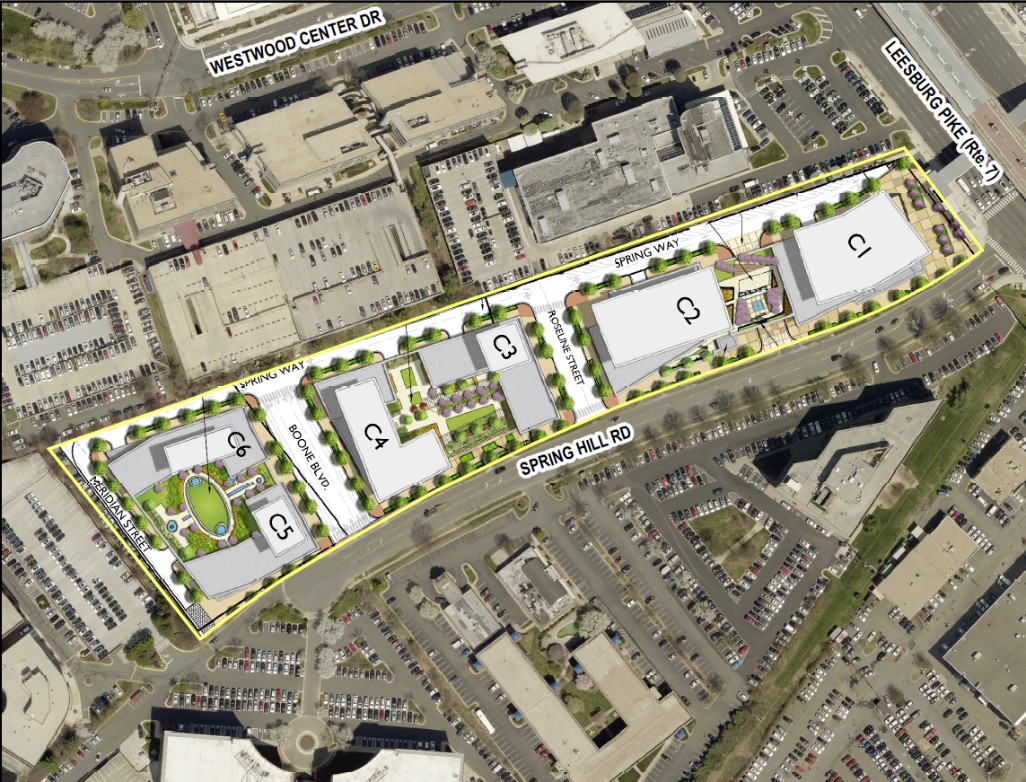 The subject property is located to the south of Leesburg Pike, and west of Spring Hill Road. The application was originally filed alongside RZ 2011-HM-013, known as Dominion Square East, and SE 2014-HM-034, which would allow a proposed office intensity over 2.5 FAR. These three cases, despite not being contiguous, were to be heard concurrently, but Dominion Square West split from the group and was approved by itself, while the remaining two applications were approved later.
The application proposed to redevelop an area which is currently developed with several automobile dealerships. The rezoning includes a total of six structures, including a mix of office, retail, and residential uses. The buildings would range in height from 85 to 400 feet, with the larger structures closer to the Spring Hill Metrorail station. None of the existing structures are proposed to remain.
The site will include an athletic field, two elevated sky-parks (one private and one public) and a Metro Plaza extension. The proposed public facilities will serve the high volume of pedestrian activity associated with Metro accessibility to the Spring Hill Metro Station.
Major transportation improvements will include the extension of Boone Boulevard, improvements to Spring Hill Road, a left turn lane on Route 7, monetary contributions to Route 7 improvements and Spring Hill Road / International Drive / Jones Branch Drive intersection improvements, and pedestrian accessibility to the Spring Hill Metro Station.
Related Cases