Application Overview

                                                                      

Key Documents / Links
Area: 24.39 Acres                                                                                   ZAPS Overview                  Approved Plan 014A
Status: Approved                                                                                   ZAPS Overview                  Approved Plan 014B
Applicant Name: Georgelas Group, LLC                                            ZAPS Overview                  Approved Plan 014D
                                                                                                                   ZAPS Overview                  Approved Plan 014E
Application Information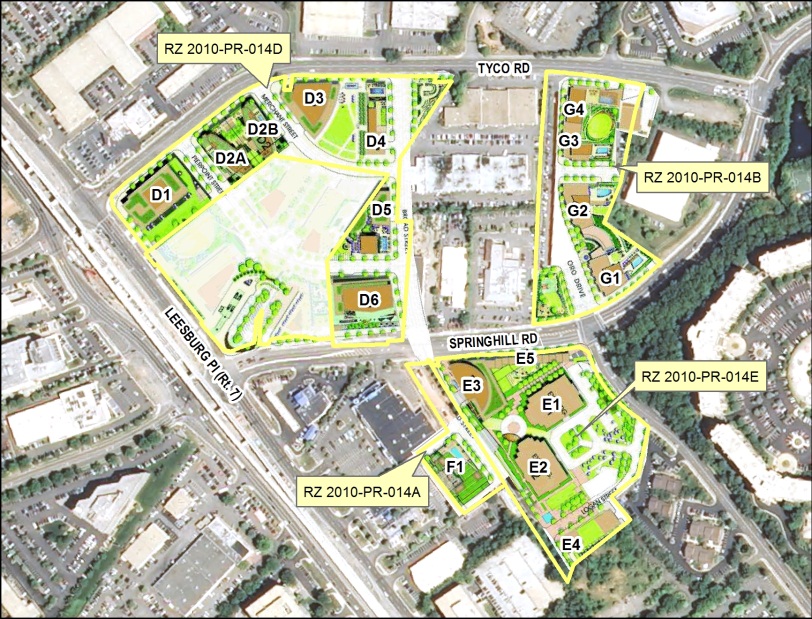 The four approved rezoning applications propose to redevelop an area currently characterized by a mix of lowrise industrial uses, car dealerships, two larger office buildings (the Greensboro Corporate Center), some small office uses and Fairfax County Fire Station #29.
A total of up to 17 buildings are proposed with the approved applications, including the two Greensboro Corporate Center buildings which are proposed to remain. Building heights range from 40 feet to up to 400 feet. Proposed uses include office, residential (including 20% workforce housing), hotel and neighborhood serving retail, as well as a new, relocated, fire station.
Application RZ 2010-PR-014A has a concurrent FDP approved on the entire land area (Building F1 located to the south of the existing Greensboro Corporate Center buildings). Application RZ 2010-PR-014D has an FDP approved on two blocks along Tyco Road. The FDP shows interim options for the future Building D1 site, the construction of Building D2A, and an interim park on the future Building D2B site. No FDPs have been filed on applications RZ 2010-PR-014B or 014E.
Rezoning Application RZ 2010-PR-014C was originally a part of, and concurrent with, the other Spring Hill Station cases. That application has been indefinitely deferred. Should the application be reactivated, additional information will be provided
Major transportation improvements include the extension of Greensboro Drive from Spring Hill Road to Tyco Road and the construction of a section of a crucial collector (known in these applications as Condominium or Broad Street) that will parallel Greensboro Drive and Leesburg Pike through the entire northern half of Tysons. Although the Spring Hill Metro Station will integrate most directly with the deferred application RZ 2010-PR-014C, this developer was instrumental in coordinating the reorientation of the metro entry pavilion on the north side of Leesburg Pike (Route 7) and the provision of an interim park and ride lot. The applications accommodate the future Tysons Circulator along Tyco Road, Leesburg Pike and Spring Hill Road. The applicant has contributed to the future Tysons-wide transportation improvements by proffering to construct the Greensboro Drive extension. The four approved applications include two major above grade public parks and four major at-grade parks, in addition to smaller public plazas, pocket parks and roof-top private amenities. Active recreation opportunities in these parks include a half basketball court, a skate park, a playground, a track and a putting green. To augment these onsite recreation spaces, the applicant committed to purchase, or provide funding to purchase, 2.81 acres of land for public park use adjacent to the existing Raglan Road Park. This offsite parkland is intended to be dedicated to the Park Authority, and would allow for the construction of an athletic field at Raglan Road Park with appropriate master planning. The applications also proffer to contribute funds equivalent to the cost of constructing an athletic field at Raglan Road Park or at another location in Tysons. The applications commit to construct a new, larger replacement for Fire Station #29, integrated into Building G4 of Application RZ 2010-PR-014B on Tyco Road. The new fire station is proffered to be constructed by 2020. The applications have committed to meeting Plan recommendations for green building design and have addressed the stormwater management recommendations from the Comprehensive Plan using a variety of low impact development and structural techniques to retain and treat water on-site.
Related Cases