Application Overview

                                                                      

Key Documents / Links
Area: 16.74 Acres                                                                                      ZAPS Overview
Status: Approved                                                                                      Current Plan
Applicant Name: BIT Investment Fifty-Two, LLC
Application Information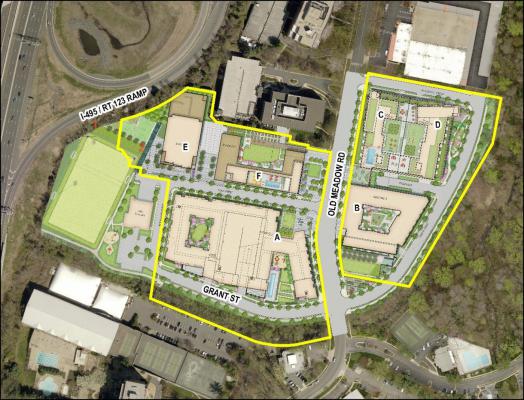 The subject site is currently developed with five office buildings, ranging from one to six stories in height, with surface parking. Under the approved layout, these buildings would be removed and replaced with either five or six new buildings (depending on the design of buildings C/D as one building or two towers).
The neighborhood is primarily residential with supporting retail. Building E is has an option to be either residential office. Maximum building heights would range from 105 to 240 feet. The Final Development Plans (FDPs) have been approved for Buildings A and B.
Major transportation improvements include improvements to Old Meadow Road and additional local grid street connections. The street system will provide access to the new fire station and athletic field that were proffered by the Scotts Run Station South development (pursuant to RZ 2011 PR 010, RZ 2011 PR 011 and PCA 92 P 001 10).
A total of eight on and off-site public parks are proposed across the development, as well as an expansion of the adjacent athletic field to a full-size field.
Related Cases