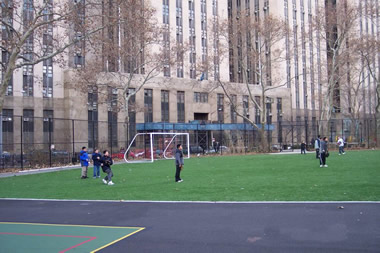 New York City Athletic Field

In addition to land for urban parks, land for active recreation must be provided by new development. Recreational facilities fall into the following categories:
Private facilities such as swimming pools, tennis and basketball courts, fitness centers, and picnic/grilling areas that serve only those who live in a particular residential development.
Small-footprint public facilities such as playgrounds, tot lots, dog parks, tennis and basketball courts, sand volleyball pits, bocce courts, skate spots, outdoor fitness stations, amphitheaters, open lawns, garden plots and picnic areas.
Large-footprint public facilities such as rectangular and diamond athletic fields for sports such as football, soccer, field hockey, lacrosse, cricket, rugby, disc football, baseball, softball, and kickball.
Flexible public indoor spaces such as multipurpose gyms, futsal (indoor 5 on 5 soccer) courts, and program spaces that can be used for activities such as yoga, fitness, dance lessons, and arts and crafts.
The plan provides that as redevelopment occurs, park and recreation needs are addressed. Provision of facilities to meet service level needs will ensure that as Tysons redevelops, publicly accessible recreational facilities will be available to meet the active recreation needs of future Tysons residents, employees and visitors. Using 2050 development projections, anticipated urban field patterns, optimal athletic field design (lights and synthetic turf) and longer scheduling periods, the adjusted need for athletic fields to serve Tysons is a total of 20 fields. In general, the need for an athletic field is generated by the development of approximately 4.5 million square feet of mixed use development in Tysons.
Creative Approaches to Athletic Fields
Achieving the requisite athletic fields for a growing population in Tysons is a challenge given the high land values and lack of undeveloped sites. Creative approaches such as providing parks and fields on rooftops, providing recreation and program space within commercial buildings, use of synthetic turf and lighting, multi-use field design, and forging new park-provider partnerships must be seriously considered. Equally important is collaboration among land owners to provide space or land where it is most needed and appropriate, and to ensure that public accessibility requirements are met.
Some creative approaches to providing athletic fields within Tysons currently being explored are illustrated below: