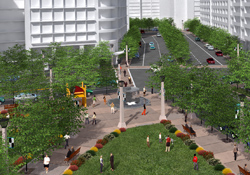 As new development occurs, a variety of urban parks, plazas, open spaces and recreational facilities will be created in Tysons. These will be connected by a "greenway," a network of trails for pedestrians and bicyclists.
Major elements of the park system include:
A Conceptual Park Network, composed of a central signature park, a large multipurpose park, multiple urban parks, stream valley parks and trails.
 
Urban Park Standards and Typology. The urban park standard for Tysons is 1.5 acres per 1,000 residents and 1 acre per 10,000 employees. The typology includes four types of urban parks: pocket parks, common greens, civic plazas and recreation-focused parks.
 
Recreational Facilities. The Plan calls for 20 athletic fields at Tysons, or one field for every 4.5 million square feet of mixed use development. Tysons will also be served by private facilities, small-footprint public facilities, and flexible public indoor spaces Information Regarding Parks and Open Space in Tysons.