Application Overview

                                                                      

Key Documents / Links
Area: 30.47 Acres                                                                                       ZAPS Overview RZ 2011-PR-010
Status: Approved                                                                                       ZAPS Overview RZ 2011-PR-011
Applicant Name: Cityline Partners LLC                                                 Current Plan
Application Information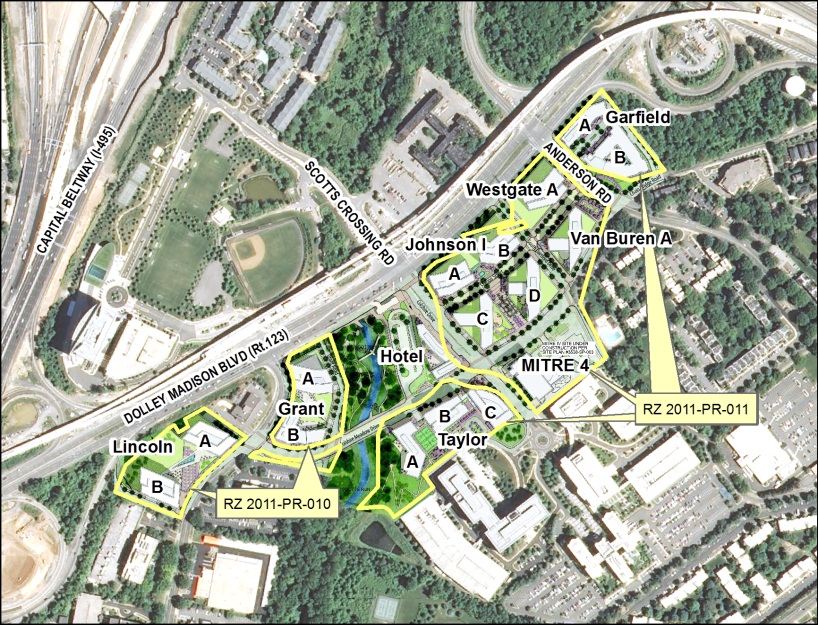 The subject site is developed with existing low density office buildings. Under the approved rezoning, these office properties will be redeveloped to a higher density, transit-oriented, mixed-use development to include office, hotel, residential and retail uses in 17 multi-story buildings. Proposed building heights range from a low of 75 feet up to a height of 400 feet closest to the McLean Metrorail station along Route 123.
Scotts Run Station South consists of two approved applications. RZ 2011-PR-010 is located to the west of the existing Scotts Run Stream Valley Park, while RZ 2011-PR-011 is located to the east of the park. The application also incorporates the Mitre 4 Building, which was approved in 2011 under PCA 92-P-011-7/ SE 2010-SE-023. Two FDP applications were approved on the site, including the Garfield block (for two residential buildings) and the Mitre 4 Building (for the previously approved office building). Major transportation improvements include the extension of Colshire Meadow Drive from its terminus with Colshire Drive to Anderson Road and the straightening of a section of Colshire Drive. In addition, the applicant proffered to provide design plans for the proposed "Super Boulevard" improvements to Dolley Madison Boulevard and to contribute funds toward its construction. The applicant has proffered contributions to the Tysons-wide and Tysons Grid of Street transportation funds.
Several on-site parks are proposed located throughout the site, both on-grade and on top of structures. As part of the development, the applicant will enhance and restore portions of the Scotts Run Stream Valley Park, which currently bisects the development. The applicant has further committed to provide the County with restoration plans for Scotts Run to be used for restoration of other sections of the stream and to meet the LEED standards and stormwater management goals referenced in the Comprehensive Plan. The applicant has committed to construct an off-site lit and turfed athletic field, located near the subject site (off of Old Meadow Road). This field is to be co-located with a new fire station; the applicant has committed to construct the fire station by 2020. These improvements will be constructed pursuant to application PCA-92-P-001-10.
Related Cases