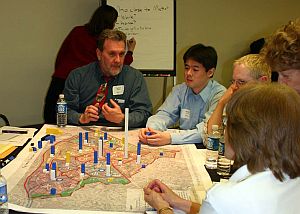 In 2004 the final Environmental Impact Statement for the Silver Line of Metrorail was adopted, identifying four transit stations in Tysons. Also in that year, 20 proposals for redevelopment in Tysons were submitted under the county's Area Plan Review (APR) process. Since the Comprehensive Plan had not been revised to account for the specific locations of the four stations, the Planning Commission deferred all rail-related APR nominations to be reviewed in a Special Study of the Tysons Corner Urban Center.
In May 2005 the Board established the Tysons Land Use Task Force to coordinate public outreach during the planning process. Over the next three years, this 36 member group of Board-appointed citizens developed a vision for the future of Tysons based on best practices in transit-oriented development and public input from a series of community workshops. The Task Force presented its recommendations to the Board in September 2008.
The Board referred the Task Force's recommendations to the Planning Commission, which created a five member committee to work with county staff drafting detailed Comprehensive Plan text. The Board also directed that the Tysons Plan be informed by a thorough analysis of transportation impacts, public facility needs, anticipated costs and revenues, and population and employment forecasts. Based on the committee's work, the Planning Commission delivered its recommended Tysons Plan text to the Board in May 2010. The Board adopted the Tysons Plan on June 22, 2010. The Board also adopted 20 Follow-on Motions, directing County staff on elements of Plan implementation.