Application Overview

                                                                      

Key Documents / Links
Area: 5.79Acres                                                                                          ZAPS Overview
Status: Approved                                                                                       Current Plan
Applicant Name: NV Commercial Inc &
                                Clyde's Real Estate Group, Inc
Application Information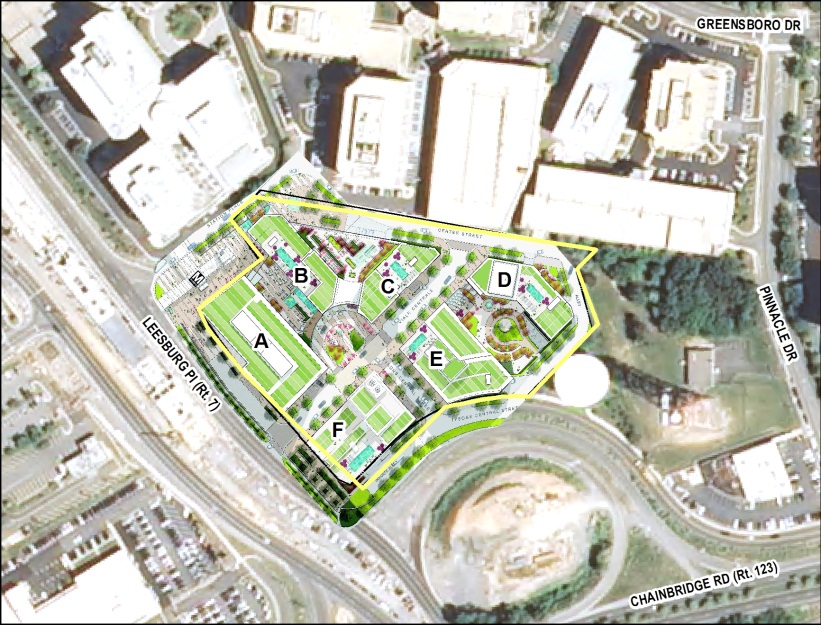 The subject site is characterized by a mixture of low-density retail and commercial uses, including Clyde's restaurant, and associated surface parking.
The rezoning application seeks to redevelop the site into a high density, transit-oriented, mixed-use development, which would include a mix of office, hotel, residential, and retail uses in six new buildings. None of the existing structures are proposed to remain. Two layout options are proposed, one that maximizes residential uses and one that maximizes office uses. Building heights range from 75 to 400 feet. An FDP application has been filed on proposed Building F, located in the southeast corner of the site. Major transportation improvements include the construction of Station Place and the extension of Central Street from Station Place to Pinnacle Drive. Central Street will be part of a crucial new collector that, in the long term, is intended to extend through the entire north side of Tysons. In addition, the applicant has proffered contributions to the Tysons-wide and Tysons Grid of Streets transportation funds.
A mix of at-grade plazas and sky parks are proposed, including the creation of a public plaza around the Greensboro Metro Station. The applicant is proffering a cash contribution to purchase land and develop an athletic field to serve Tysons. To address the Plan's public facility objective, the applicant has proffered to provide space for a university use or other public/community use for 50 years for no rent. The applicant has committed to meet the LEED standards and stormwater management goals referenced in the Comprehensive Plan.
The applicant has proposed to construct an interim sidewalk from Solutions Drive to the Greensboro Metro Station within 18 months of approval of the application (if such can be coordinated with the adjacent landowner). The applicant has also proposed to provide a "pop-up" retail experience in the area surrounding the Greensboro Metro Station to provide interest and activity in the near term, prior to full site redevelopment.
Related Cases