Application Overview

                                                                      

Key Documents / Links
Area: 78.65 Acres                                                                                       ZAPS Overview
Status: Approved                                                                                       
Applicant Name: Tysons Corner Holdings LLC
Application Information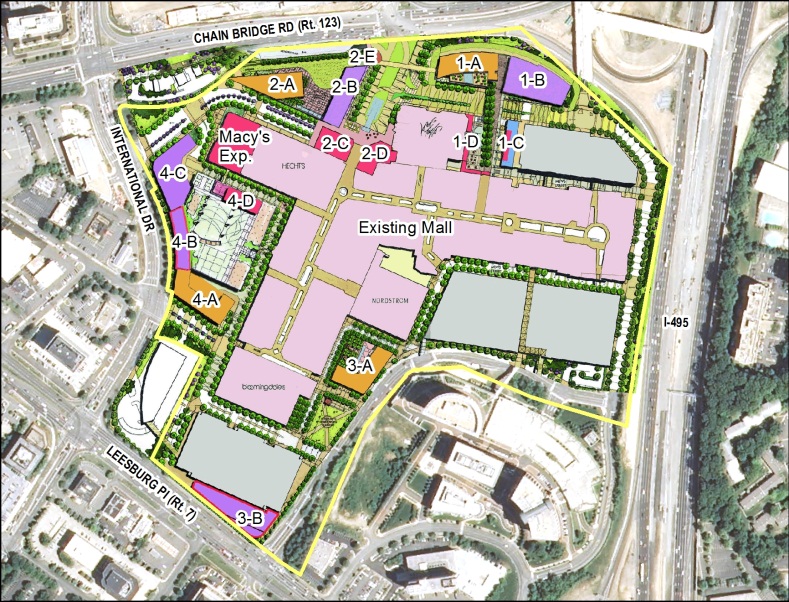 Tysons Corner Center is the largest regional mall in Virginia. The approved application will transform much of the previously existing surface parking around the enclosed retail space into a mixed-use development, capitalizing on the proximity to the Tysons Corner Metrorail station. The approval added over 4 million square feet of office, residential, and hotel uses with supporting retail use, to be constructed in four phases.
The application includes a commitment to a TDM program, parking reductions and management, accommodation of pedestrian bridges to surrounding development off-site, accommodation of bus transit plaza areas, and a contribution to the Tysons Transportation Fund. The application also commits to provide 1,700 square feet of Community Space and a number of on-site public and semi-public park spaces. In addition to the on-site recreation facilities provided, the application provides cash contributions to support off-site recreational opportunities.
The initial FDP covered the entire site, but per the proffered commitments, Phases 3 and 4 were required to return through the zoning process for a CDPA/FDPA prior to any development occurring in those phases. The CDPA/FDPA/PCA applications for Phases 3 and 4 modified the previously approved development within those two phases. The changes retain the previously approved density for the site, while changing some of the land uses from office to residential uses. The applications also updated development totals for the constructed Phase 1 development as approved per the previous rezoning and subsequent interpretations.
The Phase I construction has been completed. The 22-story office building, Tysons Tower, was delivered in 2014. The 28-story residential building (Vita), a Hyatt Regency hotel and some retail additions to the existing mall were constructed pursuant to Site Plan 6399-SP-018 and delivered in 2015. A central, elevated outdoor plaza of over one-acre in size was opened on July 24, 2014, and serves as a connecting element between the existing retail center, the Phase I structures, and the Tysons Corner Metrorail station.
Related Cases