Application Overview

                                                                      

Key Documents / Links
Area: 16.02 Acres                                                                                      ZAPS Overview
Status: Approved                                                                                      Current Plan
Applicant Name: Tysons West Residential
                                and JBG/Tysons Hotel LLC
Application Information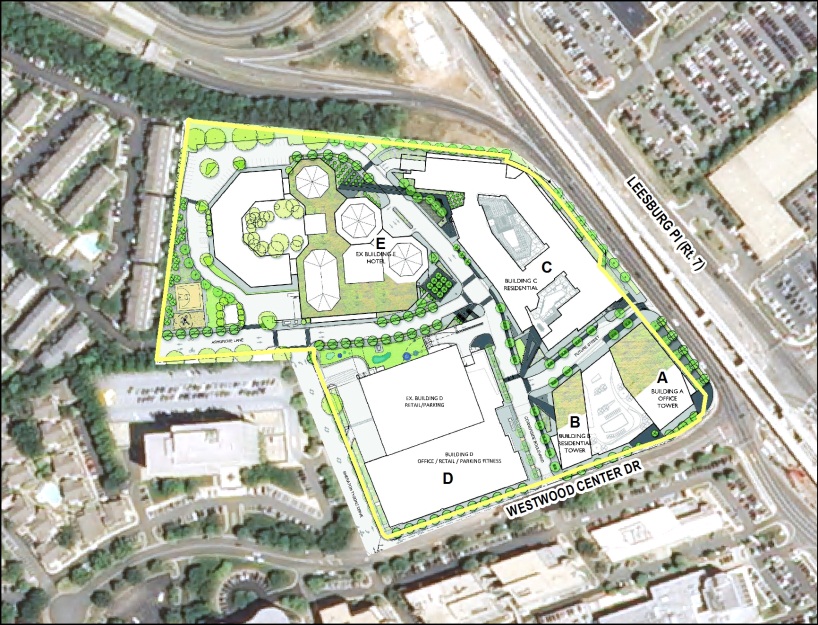 The subject site is currently developed with a hotel and conference center (Sheraton Premier), surface parking and retail use with structured parking (Walmart, fitness center).
The redevelopment will add a mix of uses that integrate with the existing uses. Three new buildings are planned, including residential and office uses with ground floor retail. The new buildings range in height from 95 to 225 feet. The existing hotel/conference center (Building E) and retail use (Building D) will remain. The FDP was filed on the entire land area of the CDP, but only depicts the two existing buildings and proposed Building C; Buildings A and B will be the subject of future FDPs.
Major transportation improvements include the accommodation of a potential ramp from the DAAR and contributions to the Tysons-wide and Tysons Grid of Streets transportation funds. The new development would include nine at-grade public parks, scattered throughout the site. The applicant has proffered a cash contribution to purchase land and develop an athletic field to serve Tysons. The applicant also proffered a one-time $50,000 contribution to the Fairfax County Park Authority for items such as (but not limited to) improvements to the existing trails along Old Courthouse Spring Branch or the Ashgrove House facilities..
Because the Plan envisions the Tysons West District as an arts and entertainment center, the applicant has provided approximately 3,500 square feet within either Building A or Building B for up to 50 years to serve a public art agency or another public/community use. In addition, the applicant proffered to contribute $350,000 to fund a Master Plan for the Arts..
The applicant has committed to meet the LEED standards and stormwater management goals referenced in the Comprehensive Plan.
Related Cases