Application Overview

                                                                      

Key Documents / Links
Area: 5.37 Acres                                                                                          ZAPS Overview
Status: Approved                                                                                        Current Plan
Applicant Name: Tysons Westpark, L.C.
Application Information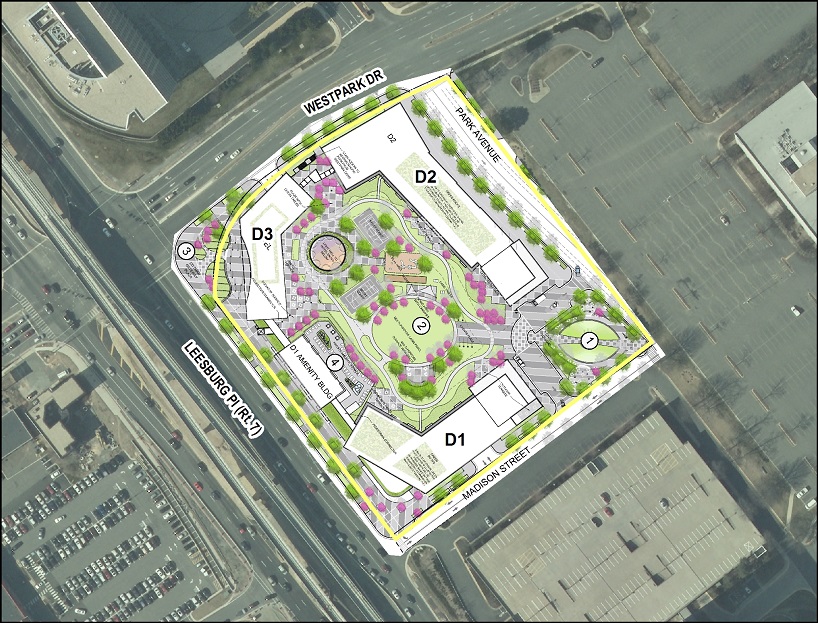 The subject site is currently developed with an existing nine-story hotel and associated surface parking. Under the proposed layout, the site would be completely redeveloped with two new residential towers, hotel and support retail. Building heights would range from 140 to 270 feet.
The land area included within this rezoning application was previously part of RZ 2010-PR-022 (Greensboro Place). RZ 2013-PR-009 is anticipated to be heard concurrently with RZ 2010-PR-022. No FDP application has been filed as part of this rezoning.
Major transportation improvements proposed include the creation of a portion of a new grid street, Park Avenue, which would run parallel to Greensboro Drive and Leesburg Pike. The Tysons Circulator is accommodated along the Westpark Drive frontage. Discussions regarding contributions toward the Tysonswide and Tysons Grid of Streets transportation funds are ongoing.
The proposed layout includes a large park, located in the center of the development. This park would contain an amphitheater, small sports field, bocce courts, play area and sports courts. Additional discussion regarding athletic fields is ongoing. In addition, discussions regarding public facilities, LEED standards and stormwater management goals continue.
Related Cases