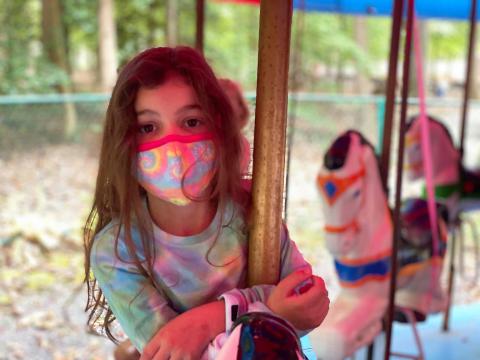 Spring is in the air, and that means it's time to reopen Park Authority amusements and facilities that have been closed for the winter. Welcome the warm weather by taking a spin on a carousel, going for a train or wagon ride, launching a boat, playing a round of mini golf or practicing your swing at the batting cages.
Amusements at many Park Authority facilities have begun opening for the season. Please check our website for site-specific hours and details; hours will continue to expand as we approach summer:
COVID-19 safety procedures remain in place at all park venues. Amusements will run at reduced capacity, equipment and rides will be cleaned between uses, sanitation breaks will be implemented, and social distancing is required in queues and while participating in park activities. Certain seats or areas may be blocked off to facilitate social distancing. Masks are required for visitors age 2 and up, and customers are encouraged to carry wipes and hand sanitizer.
Due to reduced capacity, tickets are limited. Visitors are encouraged to purchase tickets in advance to reserve your spot and reduce physical contact. You can buy an unlimited number of tickets for your favorite activities for the same day or different days. Drop-in tickets will still be available on site if activities do not sell out online. The Park Authority encourages visitors to check the status online or book online before arriving. For ticketing and more information, visit our Popular Activities Page. Please note that Braddock Park batting cage tokens must be purchased in person.
For more information, contact the Park Authority at 703-324-8700; or send an email to parkmail@fairfaxcounty.gov.