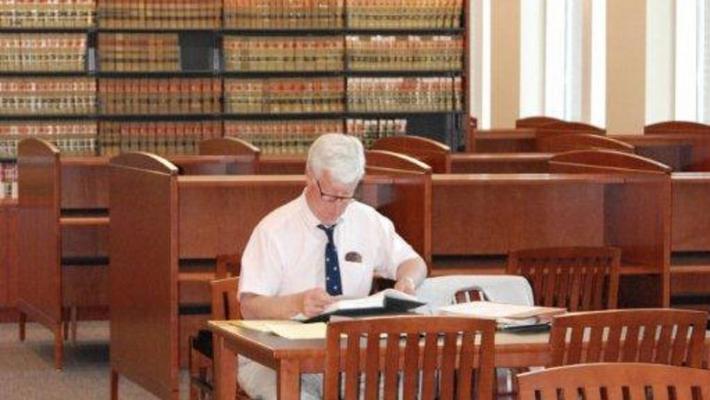 Announcements
Free wireless internet service has been installed and is available to any visitor with a laptop equipped with a wireless networking card. Call 703-246-2170 for more information.
You may now schedule time in our Conference Room. This is a free service available for use by small groups (between two and ten individuals) conducting courthouse-related business that require a level of interaction that might be distracting to other library users during regular operating hours. Reservations are accepted up to one day in advance for up to one hour per day. Call 703-246-2170.
Food and drink are not permitted in the Law Library. A small cafe for refreshments is conveniently located just down the hall from us on the first floor of the Courthouse
Law Library Online Catalog
LibraryWorld Online Patron Access (OPAC) allows easy and quick searching of libraries that are hosted by LibraryWorld.
To access the catalog, enter "FPLL" as the Name of Library.
Law Library Fee Schedule
| | |
| --- | --- |
| Photocopies (self service) | $0.25/page |
| Fax (local) | $1.00/page |
| CD-ROM/Online/Internet Print copies | $0.25/page |
All fees subject to change.
To request services from the Fairfax Public Law Library, you may call us at 703-246-2170, TTY 711.
Computer Resources
Library Resources for Computer Assisted Legal Research
CD-ROM
Continuing Legal Education (CLE) Forms
VA Forms on Disc
Geronimo Casefinder
VADER
ONLINE DATABASES
LEXIS Advance
WESTLAW
Hein Online
Law Library Mission Statement
To Promote Justice by Providing All Citizens with Access to Legal Information.
The Fairfax Public Law Library provides citizens with access to information about laws and legal procedures. Its resources include more than 35,000 books and legal periodicals as well as several public computer research terminals. The legal resources available in the law library are not available to the public at any other single location within the County of Fairfax. Although staff may not offer legal advice, they provide bibliographic instruction and assist more than 70,000 patrons each year in locating legal information and sample legal forms. The library is available to all, including members of the general public, members of the legal profession, and public officials such as judges, prosecutors, and public defenders. The Fairfax Public Law Library is a critical component of the county's efforts to provide meaningful access to justice.