Need Help?
Do you need help for yourself or someone you know with a mental health issue?
If you are calling 9-1-1 for a mental health crisis or emergency, request a CIT-trained officer to respond.
24-Hour CSB Emergency Services
Phone: 703-573-5679 | TTY: 711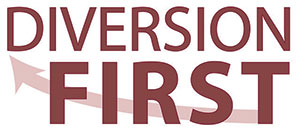 Diversion First was implemented because...
Too many people are in jail due to mental health issues. Jail is not the appropriate place to provide mental health treatment.
There is a need to prevent the incarceration of people with intellectual/developmental disabilities.
To intervene at the earliest point possible to de-escalate situations and avoid arrest.
It's the right thing to do to offer treatment to people who need it, instead of jail being the default solution
It's less costly for people to receive treatment instead of spending time in jail
Treatment offers hope by helping people recover andtake control of their lives.
1 in 5 Americans has a mental illness. Having a mental illness is not a crime.
Responding to recommendations from the Ad Hoc Police Practices Review Commission.
The Board of Supervisors adopted a resolution to support the national Stepping Up initiative to decriminalize mental illness.
Read the 2018 Diversion First Annual Report (PDF)
At the inaugural meeting of Diversion First, local leaders announced their commitment to set up a basic jail diversion program by January 1, 2016 with the following initial components in place, to be expanded and further developed over the next 3 to 5 years:
Merrifield Crisis Response Center (MCRC)
This program, located at the Fairfax-Falls Church Community Services Board's Merrifield Center, operates as an assessment site where police are able to transfer custody of nonviolent offenders who may need mental health services to a CIT-trained officer or deputy assigned there, instead of taking them to jail. The MCRC has comfortable rooms with reclining chairs that allow people to rest as their condition stabilizes. Merrifield is not a hospital; people do not stay there.
In less than a year, Fairfax County went from having a limited diversion process to launching the Merrifield Crisis Response Center, mostly by leveraging existing resources. A team of law enforcement officers are based in the MCRC 24 hours a day, seven days a week to accept custody of a person experiencing a crisis so that the patrol officer can get back on the street quickly. Co-locating law enforcement in this setting has set a countywide precedent of collaboration.
Crisis Intervention Team (CIT) Training
CIT training is now ongoing for local law enforcement personnel. As part of Diversion First, Fairfax County police officers and deputy sheriffs are receiving 40 hours of state-certified Crisis Intervention Team (CIT) training to learn about the challenges of living with a mental illness and how to de-escalate crisis situations, both in the community and in the jail. CIT training is also aimed at changing the way law enforcement and the judicial system interact with people who have intellectual or developmental disabilities.
After completing the training, CIT officers and deputies are better equipped to identify individuals who are experiencing an episode related to mental illness or disability.  They can make an informed decision to take persons to the Merrifield Crisis Response Center (MCRC) for assessment rather than arresting them and bringing them to the Adult Detention Center. Or they may be able to de-escalate the crisis and resolve the situation on the spot. MCRC is staffed by the Fairfax-Falls Church Community Services Board (CSB), the county's publicly funded mental health provider.
Mobile Crisis Unit
The Diversion First initiative has two units to provide emergency mental health personnel in the field.
Mental Health Docket
Diversion First helped establish a Mental Health Docket in the Fairfax County Court system.
Want a team of experts to come talk to your group about Diversion First? We are happy to schedule presentations as time permits. Please email us to request a time.
You can also contact us with questions or for more information about our Diversion First program.