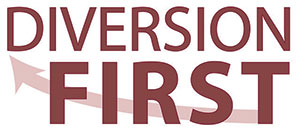 Diversion First is a more efficient use of public resources designed to:
Prevent repeat encounters with the criminal justice system.
Improve public safety.
Promote a healthier community.
The goal is to intervene whenever possible to provide assessment, treatment or needed supports. 
Do you need help for yourself or someone you know with a mental health issue or substance use disorder?
The following services are available 24/7, every day of the year, including holidays:
9-1-1
Call: 9-1-1
Text: 9-1-1
Request a CIT-trained officer to respond.
 
Regional Crisis Call Center and Textline
Call: 9-8-8 or 703-527-4077 | TTY: 711
Text: "CONNECT" to 855-11
 
CSB Emergency Services
Call: 703-573-5679 | TTY: 711


Fairfax Detoxification Center
Call: 703-502-7000 | TTY: 703-322-9080
---
For non-emergencies: Call the CSB Entry & Referral Services at 703-383-8500 or come directly to the Sharon Bulova Center for Community Health.
How Diversion First Helps
Intervening at the earliest point possible to de-escalate situations and avoid arrest.
Too many people are in jail due to mental health issues. Jail is not the appropriate place to provide mental health treatment.
There is a need to prevent the incarceration of people with intellectual/developmental disabilities.
It's the right thing to do to offer treatment to people who need it, instead of jail being the default solution
It's less costly for people to receive treatment instead of spending time in jail
Treatment offers hope by helping people recover and take control of their lives.
1 in 5 Americans has a mental illness. Having a mental illness is not a crime.
Diversion First Programs & Services
Learn more about the programs and services that help the diversion effort in Fairfax County.
There are three Specialty Dockets: Veterans Treatment, Mental Health and Drug Court.
Data and Resources
Our resources include presentations, reports, videos and more to help you better understand the benefits of diversion.
Annual Report
Explore the Annual Report:
Diversion First was launched following recommendations from the Ad Hoc Police Practices Review Commission and Board of Supervisors adoption of a resolution to decriminalize mental illness by supporting the national Stepping Up initiative.
Diversion First Video Playlist
Need more information or want to schedule a presentation? Reach out!
Director of Diversion Initiatives
703-324-7088 | TTY 711
Diversion First Partners