THANKSGIVING HOLIDAY HOURS!
We will be CLOSED on Thursday, November 22 (Thanksgiving Day). We will be OPEN on Friday, November 23, for special adoption hours of 10am to 5pm, for our Black Fur Day adoption event! Thanks to the generous support of the Friends of the Fairfax County Animal Shelter, adoption fees will be waived for ALL pets for this one day only! We resume normal hours on Saturday, November 24.
Fantastic Pets and Where to Adopt Them Adoption Event!
Join us this week, November 13-18, as we transform the shelter into Pawgworts for a Harry Potter Wizarding World Adoption Event: Fantastic Pets and Where to Adopt Them! Step into the Great Hall under the light of our floating candles, check out our potions table, see which Houses our adoptable pets have been sorted into, and watch out for Aragog!! Adoption fees on all pets seven months and older will be 25-100% off... but you'll have to open a Howler, reach into the Goblet of Fire, or catch a Snitch to find out your discount!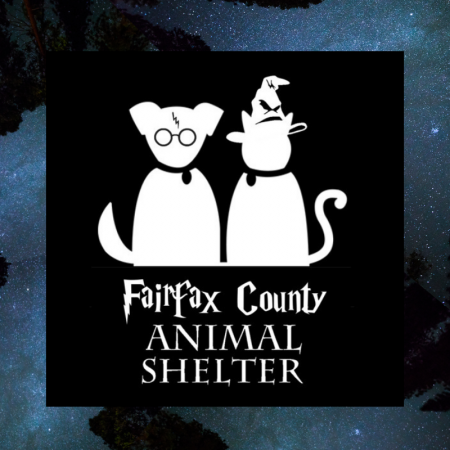 Are you ready to adopt your new best friend? Learn more about our adoption process, including our requirements and adoption fee structure, and then come on in to meet all our available pets. We have dogs, cats, and small animals available to adopt, and we do same-day adoptions!
Have you lost a pet, or found a stray pet? Get tips on finding a lost pet, file a lost or found report online to help shelter staff reunite lost pets with their families, and learn how to redeem your pet from our shelter.
Our goal is to help pet owners keep their pets! Learn more about these pet-retention focused shelter programs, including our low-cost rabies vaccination clinics, and our PetHaven program to help victims of domestic abuse.
Want to have your child's birthday party at the shelter, bring a school or Scout group to take a tour, or help our animals have sweet dreams by reading to them at bedtime? Read about what types of kids program our shelter offers!
We understand that sometimes the best and most feasible option for pet owners who can no longer care for a pet is to surrender them to a shelter, and we're here to help. Please make sure to read all the information about surrendering a pet, so you know what to bring.
Curious about how our volunteer and foster programs support shelter pets, how you can get involved, and how to donate much-needed supplies to support shelter pets?
Wondering what our open hours are, or where we're located? Curious about what our adoption requirements or fees are? Have any question about the Fairfax County Animal Shelter? Visit our FAQs!