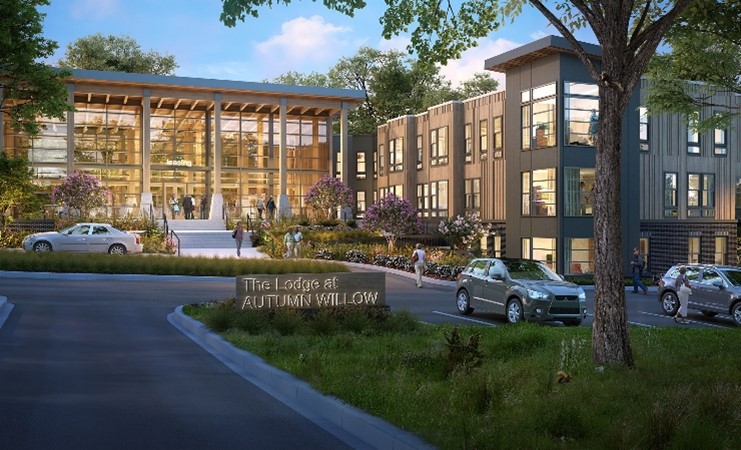 March 3, 2021
On Tuesday, February 23, the Fairfax County Board of Supervisors took two key actions to further the work on the development of 150 units of affordable senior housing. The Board approved a $4.45 million Housing Blueprint loan and a special exception to allow for the development of The Lodge at Autumn Willow in the Springfield District. "The development of senior housing in Fairfax County is a critical piece of providing opportunities for our older residents – particularly those with limited retirement incomes - to be able to live in Fairfax County," said Springfield Supervisor Pat Herrity, who chairs the Board's Older Adults Committee. "It is important that we provide opportunities for our longtime residents that do not have other options for housing to have a place to live in our county." In July 2020, the Fairfax County Redevelopment and Housing Authority selected Michaels Development to develop, own and operate an independent living community on undeveloped 10.8-acre site owned by the FCRHA. Under the terms of a 99-year ground lease, apartments will be priced affordable to residents earning between 30 percent and 60 percent of the Area Median Income. "Our approach with the Autumn Willow property is another outstanding example of our utilizing public lands to provide long-term affordable housing options – particularly for our older residents, individuals with disabilities and extremely low-income households," said Melissa McKenna, Chair of the Fairfax County Redevelopment and Housing Authority. "By bringing such an asset to the table, we help drive down the cost of development and ensure the perpetual affordability of beautiful homes with access to so many of the supportive and connective programs, services, and amenities Fairfax County offers." The community will include a two-story building with surface parking located in a unique natural wooded setting surrounded by a public park, pedestrian trails and the Little Rocky Run streambed. Benefits of the development will include: Outdoor amenity space will include serenity studio, reading cove, firepit and recreation area On-site walkways will connect to Fairfax County Park Authority Trails Earthcraft Certification for "green" design 15 Americans with Disabilities Act compliant units Universal Design will be included in all units, and units will be built to be adaptable for future accessibility improvements as may be required "Fairfax County is all-in when it comes to the creation of affordable housing, and Autumn Willow is another example of that fact," declared Fairfax County Board of Supervisors Chairman Jeffrey McKay. "Through Tuesday's action, we bring ourselves one more step closer to bringing the opportunity for our low-income seniors to be able to afford a decent, safe and beautiful community which takes amazing advantage of so many benefits in the surrounding area – including parks, trails, and public transit – to provide what will be an extraordinary environment for those who live here." The project is anticipated to close on all financing by the Spring of 2022.

March 1, 2021
MARCH 2021 NEWSLETTER The Office to Prevent and End Homelessness – now part of the Fairfax County Department of Housing and Community Development – is committed to eliminating the disproportionality of people at-risk of or experiencing homelessness from communities of color and other marginalized populations by providing equitable paths to safe, stable, affordable housing.   COVID-19 UPDATES Thanks to the ongoing dedication of numerous partners, the Fairfax-Falls Church Community Partnership to Prevent and End Homelessness has continued to address the needs of those at risk of and experiencing homelessness during the COVID-19 pandemic. Thank you to the many providers that are serving people in our community during the COVID-19 pandemic. Each and every one of you are sincerely appreciated. Temporary Shelter Available During COVID-19: More than 1,250 people have transitioned into Quarantine, Protection, Isolation, and Decompression (QPID) Hotels since April 16, 2020 with locations operating across Fairfax County. The QPID Hotels are managed by several non-profit partners, including Cornerstones, FACETS, New Hope Housing, and Shelter House. Northern Virginia Family Service operates a Central Intake (703-267-3511) to triage referrals to the QPID Hotels. Fairfax County released a video to provide information on how to access temporary shelter.   Eviction Prevention: Fairfax County created the Eviction Prevention Task Force to coordinate a countywide approach to provide resources and assistance to vulnerable residents. An Eviction Webpage was launched that provides numerous resources including basic needs assistance, information about the eviction process, tenant rights, financial and medical assistance, emergency shelter, legal services and more. An Eviction Dashboard was developed to identify areas of the county where residents are most at risk of being evicted because of economic hardship caused by the COVID-19 pandemic. The eviction data provided within the dashboard displays writs of eviction and unlawful detainers issued by the Fairfax County General District Court. Eviction Moratorium: The Centers for Disease Control and Prevention extended the current federal order temporarily halting residential evictions until at least March 31, 2021.   COVID-19 Vaccination: For information on the COVID-19 Vaccine and its administration locally, please visit Fairfax County's Vaccine Website. Additionally, the Centers for Disease Control and Prevention and the Department of Housing and Urban Development have published the following flyers regarding the COVID-19 vaccine: Why Get Vaccinated? Flyer for People Experiencing Homelessness Flyer for Front Line Workers   Thank you to the many providers that are serving people in our community during the COVID-19 pandemic. Each and every one of you are sincerely appreciated.   PARTNERSHIP UPDATES Penn Daw Fire Station and Supportive Housing: A proposed site has been identified for the new location of the Eleanor Kennedy Shelter. The new location, which would offer permanent supportive housing (PSH) units in addition to emergency shelter beds, is proposed to be co-located with the new Penn Daw Fire Station. An advisory committee was convened by Mount Vernon District Supervisor, Supervisor Storck that will work with county staff on evaluating potential programs that could be co-located with the permanent, new Penn Daw Fire Station.   Compact Expands Regional Coordination in Effort to End Homelessness: In January, the COG Board of Directors passed a resolution committing to expanding regionwide collaboration to prevent and end homelessness. The compact will foster "a cross-jurisdictional, client-centered approach to ending the experience of homelessness by identifying and breaking down barriers to get people the resources they need." Specific actions outlined in the compact include improving the way data is shared and analyzed across jurisdictions, establishing shared protocols for the ways residents are identified in the system, and ensuring key metrics are tracked and reported consistently. A region-wide homeless systems audit will help ensure that efforts to prevent and end homelessness are grounded in racial equity.   Hypothermia Prevention Program: The Hypothermia Prevention Program, which began December 1, 2020, has continued to operate to serve individuals experiencing homelessness during the winter months. The program provides warm shelter, food, and other supportive services to connect guests to a variety of basic needs to include clothing, employment, housing and more. Sites are open 24 hours a day, 7 days a week, through April 1, 2021.   Annual Action Plan and State Housing Trust Fund 2021-22 Input Session: The Virginia Department of Housing and Community Development (DHCD) invites you to attend one of the four upcoming input sessions to develop the Consolidated Plan Annual Action Plan for 2021-22 and to provide feedback on the proposed uses of the Virginia Housing Trust Fund (VHTF). Virginia's Annual Action Plan allocates funds for federal housing and community development programs, including CDBG, ESG, HOME, HOPWA, National Housing Trust Funds (NHTF), and Virginia Housing Trust Funds (VHTF). Register here to attend the Northern/Valley Input Session on March 10, 2021 from 3-4:30 p.m.    HUD to Enforce Fair Housing Act to Prohibit Discrimination on the Basis of Sexual Orientation and Gender Identity:  The U.S. Department of Housing and Urban Development (HUD) announced on February 11, 2021 that it will administer and enforce the Fair Housing Act to prohibit discrimination on the basis of sexual orientation and gender identity. The HUD directive begins implementation of the policy set forth in President Biden's Executive Order 13988 on Preventing and Combating Discrimination on the Basis of Gender Identity or Sexual Orientation.      FUNDING INFORMATION FY 2020 Section 202 Supportive Housing for the Elderly Program: The U.S. Department of Housing and Urban Development(HUD) has released a NOFA, Section 202 Supportive Housing for the Elderly program, which provides Capital Advance funding for the development of supportive rental housing for Very-Low-Income persons aged 62 years or older and project rental subsidies in the form of a Project Rental Assistance Contract (PRAC) to maintain ongoing affordability. Applications are due by May 26, 2021. TRAINING OPPORTUNITIES Please register for the following trainings if you have an interest in attending. By registering, we will be able to inform you of any adjustments or cancelations due to COVID-19. Active Engagement and De-Escalation Training March 2nd | 6 p.m. March 3rd | 4 p.m. March 19th | 1 p.m. Attendees will develop a trauma-informed approach to de-escalation, including awareness of how racialized trauma can present itself, set boundaries to keep all parties safe in a challenging situation, and apply key elements of de-escalation strategies.   Motivational Interviewing March 1st | 3:30 p.m. March 23rd | 3:30 p.m. March 31st | 3:30 p.m. Attendees will be introduced to the concept of Motivational Interviewing and given valuable techniques and skills to motivate and support people experiencing homelessness.   Move On Webinar Series – Spring 2021 This series of seven webinars begin March 3, 2021 and runs through May 12, 2021. The series is designed to introduce participants to the tools and resources they need to develop and implement Moving On strategies and programs, which help tenants who wish to move on from supportive housing.   Ending Homelessness: A Virtual Conference March 8th – 10th    The National Alliance to End Homelessness' Virtual Conference will cover how to do more of what works, address emerging challenges, and find innovative new ways to solve problems.  Workshops and plenaries have been developed in concert with people who have experienced homelessness, and with a focus on race and equity.  They will cover a broad range of subpopulations, issues, and solutions – both with proven strategies and new innovations.  Elevate the Affordable Housing Conversation in Fairfax County March 10th | 9 a.m. – 4 p.m. The Fairfax County Redevelopment and Housing Authority (FCRHA) and the George Mason University School of Business are partnering to host the 2021 Fairfax County Housing Symposium. The 2021 Housing Symposium will bring together local leaders, members of the business community, educators, healthcare professionals, housing industry and policy experts, advocates, and neighbors as we elevate the conversation on affordable housing in Fairfax County. Fairfax County Domestic Violence (DV) Network Tier One Training This series of eight webinars begin March 9, 2021 and runs through April 1, 2021. Tier One is a training on the dynamics of domestic violence, the systems that respond to those experiencing violence, and available resources in our community. The training is designed for professionals interested in learning the dynamics of domestic violence to deepen their work with clients and community members, and anyone interested in volunteering with Domestic and Sexual Violence Services. Please note that you must attend all eight sessions to receive a certificate of completion. Safe Zone Training for Homeless Service Providers March 24th | 2 p.m. – 5 p.m. The Safe Zone training is designed to create a safer, more welcoming, and inclusive environment, to strengthen community responses to LGBTQ individuals seeking services and to encourage networking among allied professionals toward the goal of supporting the well-being of LGBTQ people. National Low Income Housing Coalition's (NLIHC) Virtual Housing Policy Forum 2021 March 30th – 31st | 1 p.m. – 5 p.m. The forum will feature keynote speakers and panels on Racial Equity and Housing Justice; Coronavirus, Housing and Homelessness: The Current State of Play; State and Local Emergency Rental Assistance Programs; Achieving a Housing Entitlement; What the Election Means for Affordable Housing/Capitol Hill Insiders Panel; Best Practices in Organizing; and more.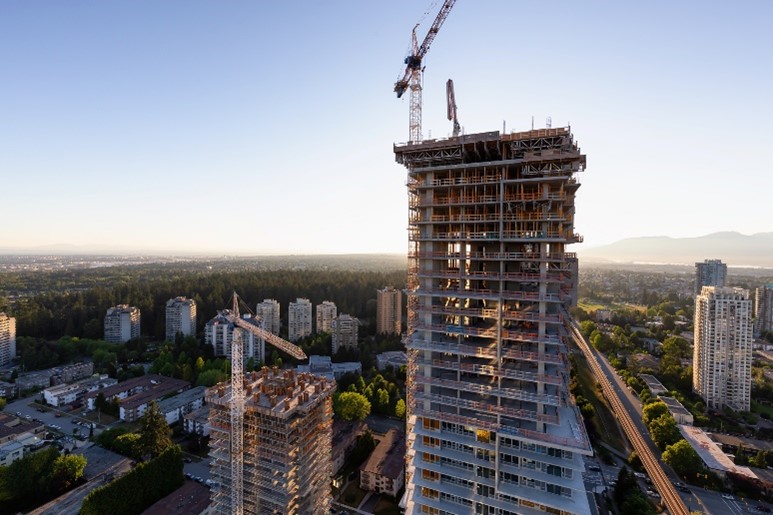 February 24, 2021
Following a public hearing, the Fairfax County Board of Supervisors approved an amendment to the Workforce Dwelling Unit Policy (WDU Policy) contained in the County's Comprehensive Plan. The policy amendment comes as the result of a two-year effort which included the formation of a multi-disciplinary WDU Task Force and extensive public engagement. The Countywide and Tysons WDU Policies incentivize developers to include affordable units for households with low- and moderate-incomes within their market-rate residential developments. The WDU Policy provides developers with a "density bonus" in exchange for the inclusion of committed affordable units as a component of their residential development. Simply put, developers can build more market rate rental units if they commit to the provision of WDUs at below-market rents to serve residents with low- and moderate-incomes. Today's amendment enhances the County's affordable housing policies by increasing the affordability of the committed rental units to households earning between 60 and 80 percent of the Area Median Income (AMI).   "This is a very positive development and really helps us adapt the WDU policy to the realities of the 2021 housing market in fulfilling the housing needs across income tiers among our residents," said Dranesville Supervisor John Foust, Chairman of the Fairfax County Board of Supervisors Housing Committee. "In recalibrating the allocation of affordability in the WDU Policy, we are ensuring that future WDUs provided by the program are being targeted for our essential workers earning low-to-moderate incomes."  The following chart compares the previous policies to those adopted. The blue text in the table identifies the units serving households earning below 80% of AMI.   According to the Communitywide Housing Strategic Plan, Fairfax County has a countywide goal of producing a minimum of 5,000 new affordable homes by the year 2034. Fairfax County works to enhance the development of affordable housing by building new and preserving existing affordable units; investing local funds and allocated state and federal resources to facilitate private and non-profit development; and promoting housing policies – like the WDU Policy – which incentivize the inclusion of affordable units in market-rate developments. Since the approval of the WDU Policy, about 1,700 WDUs (nearly all of them rental units) have been created. "Providing more housing opportunities for our residents is a community-wide priority that requires partnership and unity of vision when it comes to local government and housing providers," said Fairfax County Board of Supervisors Chairman Jeffrey McKay. "The WDU Policy has long stood as an example of how such cooperation can be successfully achieved in striking a balance to responsibly incentivize housing providers to include committed affordable homes in their market-rate housing development plans. With an increasing share of our families experiencing severe housing cost burden, now is the time to ensure we have mechanisms in place to provide new affordable housing to our workforce across lower income levels throughout the County." The Board of Supervisors may consider amendments to the WDU Policy specific to Reston through the Reston Comprehensive Plan Study Task Force. Policy discussions and recommendations will take into consideration the specific requirements and expectations of development in Reston
About the Health & Human Services System
This agency is a part of the Fairfax County Health & Human Services System (HHS). The HHS System is a network of county agencies and community partners that support the well-being of all who live, work, and play in Fairfax County.