Section § 33.2-802. of the Code of Virginia makes littering or dumping trash a Class 1 misdemeanor, punishable by up to 12 months in jail and/or a fine up to $2,500. Fairfax County Police are responsible for enforcing litter code violations.
It can be complicated determining who is responsible for litter clean-up. In some cases, it's the property owner, while for others it's a designated department of the county government. In others, an agency outside of Fairfax County is responsible (e.g., the Virginia Department of Transportation is responsible for most road-side clean ups in the public right-of-way). At this time, Fairfax County does not have a specific agency or staff designated for litter clean-ups. However, we are working to create clearer guidelines for more streamlined, efficient reporting and enforcement of litter.
Depending upon the nature of the complaint, the process for addressing it will follow one of the options summarized below.
Litter Complaints That Should Be Referred to The Police
Solid Waste Management Program's (SWMP's) statutory authority to enforce State statutes is expressly limited by state law. Requests for enforcement of § 33.2-802. of the Code of Virginia must be directed to the Fairfax County Police Department (FCPD). To expedite the process, residents are encouraged to contact FCPD directly at 703-691-2131.
Litter Complaints That Should Be Referred to VDOT
Litter left on the side of a public roadway or the median strip must be directed to the Virginia Department of Transportation (VDOT). Residents are encouraged to submit a service request to VDOT directly via Report a Road Problem - Virginia Department of Transportation or 1-800-367-7623.
Litter Complaints That Should be Referred to SWMP
The following complaints should be reported to SWMP-Enforcement at 703-324-5230, TTY 711 or via email at trashmail@fairfaxcounty.gov:
Litter left on the sidewalk in front of residential or private property for more than 10 days.
Missed refuse or recycling collection.
To register these litter complaints, please contact SWMP via our online request system PLUS. Remember to include your name and contact information, so that Enforcement personnel can respond.
Upon receipt, SWMP will review the specifics of the complaint and direct a service request to the appropriate county agency or other authority. A service request will be created and assigned to SWMP Enforcement personnel, who will contact the complainant directly. If an outside agency is responsible, residents will be encouraged to contact that agency directly, or SWMP can contact the appropriate group to explain the issue and provide a copy of the information provided in the complaint. The complaint will then become the responsibility of that agency to address and resolve.
Litter Complaints That Should Be Referred To The Department of Code Compliance (DCC)
The following complaints should be reported to DCC at 703-324-1300, TTY 711:
Unattended trash or debris on private property, including the front, back or side yard (inside the property lines).
Waste handling and management systems internal to a building (e.g., trash chutes).
Litter complaints related to a blighted property.
Litter Complaints That Should Be Referred to Other County Agencies
Litter at an active construction site must be directed to Land Development Services at

703-324-1720, TTY 711

Litter at a county government facility should be referred to the county's Facilities Management Division (FMD), which can be reached at

703-324-2825, TTY 711

Litter at a county park and related operating facilities must be directed to the Fairfax County Park Authority (FCPA) at

703-324-8700, TTY 711,

or by contacting parkmail@fairfaxcounty.gov.
Litter at a facility otherwise regulated by Fairfax County (e.g., bars and restaurants, medical care facilities) should be referred to the Fairfax County Health Department -

703-246-2411, TTY 711
What You Can Do
Secure your trash on collection days by using containers with a lid.
Place heavier recyclables on top of lighter materials in open recycling bins. This will prevent bottles and paper from blowing away.
Wait to place your trash and recycling out until the morning of collection day.
Storm drains are not trash cans. Never throw garbage in them
Organize or participate in neighborhood stream cleanups.
Adopt a road and keep it free of litter.
Choose a reusable bottle instead of plastic bottled water.
Choose reusable bags instead of plastic shopping bags.
Report overflowing trash cans and dumpsters.
If you see litter, pick it up and dispose of it properly. Every bottle, wrapper, and box adds up.
Secure trash and recycling before heavy rain events.
Store trash and recycling away from flood prone areas.
Floating trash washes into Accotink Creek following a storm on June 17, 2019. Storm drains in Fairfax County lead directly to the nearest waterway. Any litter on the ground ends up in our streams. Please help prevent litter.
Operation Stream Shield (OSS) is a partnership between the Department of Public Works and Environmental Services and the Office to Prevent and End Homelessness to benefit the environment and provide assistance for individuals experiencing homelessness to help improve the water quality of local streams.
The program helps the county meet its mandate to keep streams clean through the removal of litter and non-native invasive plant species, maintenance of the county's pedestrian trail system, providing assistance to the county's Noman M. Cole, Jr., Pollution Control Plant, I66 Transfer Station, and the I95 Landfill Complex, and engaging in assigned special projects as they become available.
Public Health and Environment
Negative Impacts on Public Health and The Environment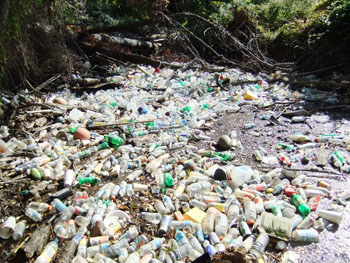 Attracting rodents

and insects which may breed disease
Polluting streams and lakes that flow to the Potomac River and Chesapeake Bay

Litter left on sidewalks, streets, yards or other open areas may be carried by rainwater and melting snow to storm drains. Smaller items such as motor oil and pesticides may flow into storm drains and then to rivers, lakes and streams. Large items may block storm drains, and cause road and structure flooding during storms.

Killing fish and wildlife

Litter may harm aquatic life.
Animals may ingest toxic substances such as motor oil, pesticides, or cigarette butts or they may swallow or become entangled in trash that finds its way into streams.
Fertilizers from yard waste that is dumped into streams can create large algae blooms which create low oxygen zones that kill fish.

Degrading Water Quality

Litter affects the quality of stream water that provides recreation for many county residents and is a source of public drinking water.

Destroying scenic vistas. Litter is just plain ugly!
Cigarette Butts
Plastic bags and bottles
Aluminum and Glass Containers
Paper Products
Used Food Containers, Wrappers and Unwanted Food
Diapers
Public Works and Environmental Services