If you see large amounts of trash, garbage or litter that have been illegally dumped or just collected in a place not designated or intended as a trash disposal site, please contact us. Reporting litter allows us to track down the property owner or organization responsible for picking it up. We will look into it and get back to you or forward to the responsible organization. Please be patient while we investigate and respond. Let us know what you saw and where you saw it by calling 703-324-5230 | TTY 711 or by email.
Most people are unaware of littering fines. Section § 33.2-802. of the Code of Virginia makes littering or dumping trash a Class 1 misdemeanor, punishable by up to 12 months in jail and/or a fine up to $2,500.
What You Can Do
Secure your trash on collection days by using containers with a lid.
Place heavier recyclables on top of lighter materials in open recycling bins. This will prevent bottles and paper from blowing away.
Wait to place your trash and recycling out until the morning of collection day.
Storm drains are not trash cans. Never throw garbage in them
Organize or participate in neighborhood stream cleanups.
Adopt a road and keep it free of litter.
Choose a reusable bottle instead of plastic bottled water.
Choose reusable bags instead of plastic shopping bags.
Report overflowing trash cans and dumpsters.
If you see litter, pick it up and dispose of it properly. Every bottle, wrapper, and box adds up.
Secure trash and recycling before heavy rain events.
Store trash and recycling away from flood prone areas.
Floating trash washes into Accotink Creek following a storm on June 17, 2019. Storm drains in Fairfax County lead directly to the nearest waterway. Any litter on the ground ends up in our streams. Please help prevent litter.
Operation Stream Shield (OSS) is a partnership between the Department of Public Works and Environmental Services and the Office to Prevent and End Homelessness to benefit the environment and provide assistance for individuals experiencing homelessness to help improve the water quality of local streams.
The program helps the county meet its mandate to keep streams clean through the removal of litter and non-native invasive plant species, maintenance of the county's pedestrian trail system, providing assistance to the county's Noman M. Cole, Jr., Pollution Control Plant, I66 Transfer Station, and the I95 Landfill Complex, and engaging in assigned special projects as they become available.
Public Health and Environment
Negative Impacts on Public Health and The Environment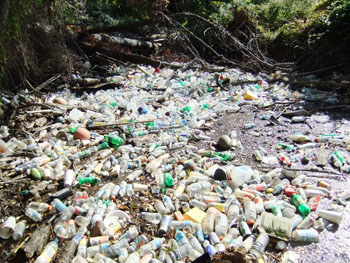 Attracting rodents

and insects which may breed disease
Polluting streams and lakes that flow to the Potomac River and Chesapeake Bay

Litter left on sidewalks, streets, yards or other open areas may be carried by rainwater and melting snow to storm drains. Smaller items such as motor oil and pesticides may flow into storm drains and then to rivers, lakes and streams. Large items may block storm drains, and cause road and structure flooding during storms.

Killing fish and wildlife

Litter may harm aquatic life.
Animals may ingest toxic substances such as motor oil, pesticides, or cigarette butts or they may swallow or become entangled in trash that finds its way into streams.
Fertilizers from yard waste that is dumped into streams can create large algae blooms which create low oxygen zones that kill fish.

Degrading Water Quality

Litter affects the quality of stream water that provides recreation for many county residents and is a source of public drinking water.

Destroying scenic vistas. Litter is just plain ugly!
Cigarette Butts
Plastic bags and bottles
Aluminum and Glass Containers
Paper Products
Used Food Containers, Wrappers and Unwanted Food
Diapers
Public Works and Environmental Services