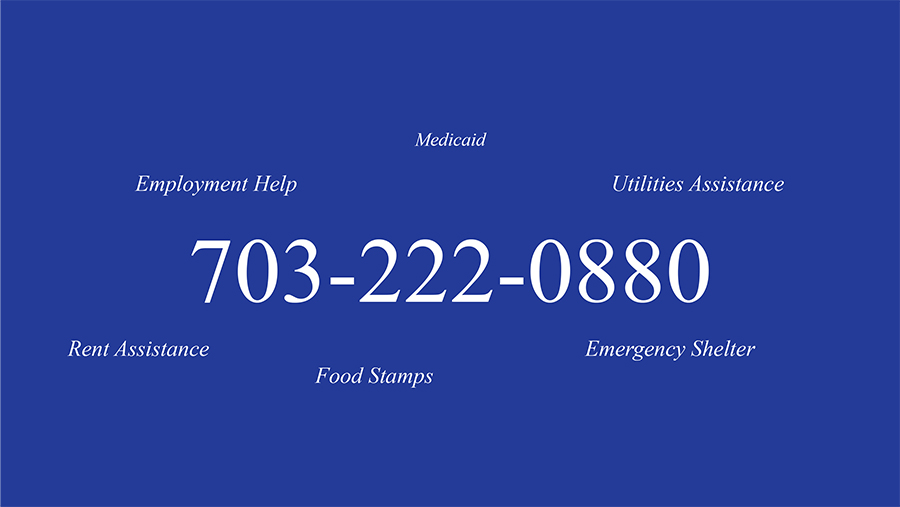 An average of 350 calls are made each day to 703-222-0880 (TTY 711), the county's lifeline for human services information and resources. It's the number you call if you need emergency help such as food, a place to sleep, or getting your electricity turned back on in your home. You can also call for information on how to access long-term assistance, such as getting a job, finding child/elder care or applying for food stamps.
That number is answered by a team of up to 40 social services specialists in our Coordinated Services Planning (CSP) Division in Neighborhood and Community Services. The CSP operates as a hotline call center for human services, Monday to Friday from 8 a.m. to 4:30 p.m.
The social services specialists assist residents in navigating the county's human services system, which can be a simple referral or critical support during a family's crisis, including this recent example:
"A single mom caring for her severely disabled young daughter contacted us because she is at risk of losing her affordable housing. The mother is working full time. However, she is having difficulty meeting expenses due to loss of wages because she has had to take time off work to manage her daughter's care and medical appointments. We referred her to Legal Services of Northern Virginia and an attorney will be representing her at her housing hearing. In addition, we referred her to the county's Department of Family Services to see if she can receive Medicaid home-based care services for her daughter. This after-school home-based service will reduce her child care expenses and will allow the mother to be consistent with her work hours. We will also help her with rental arrears to help her maintain affordable housing and she now has a plan to be financially stable."
Why People Call
For the first six months of FY 2017 (July to December 2016), the most frequent topics discussed on calls to CSP were for assistance or information in the areas noted below. These numbers do not reflect actual call volume, but the number of times assistance or information was provided in each area. Callers may receive assistance or information on multiple topics per call.
Emergency Food: 2,969
Rent Aid: 2,597
Emergency Housing/Shelter: 1,554
Food Stamps: 1,260
Utility Assistance: 1,230
Medicaid: 947
"The work we do often involves interacting with those who are experiencing great personal distress and in need of multiple types of emergency assistance. Our work is challenging and stressful but being able to help those in need makes it all worthwhile."

Keisha Dotson, Program Manager, Coordinated Services Planning Division
The CSP Team: 4 Regions, Several Languages
The CSP staff is trained to help a resident who may be overwhelmed and will work with them to develop creative solutions that address both immediate and long-term needs. A typical day for the team includes managing the call queue, staffing complicated cases, exploring resources to meet needs, communicating with nonprofit partners and managing complex caseloads of people who have a host of emergency needs.
The specialists who answer the CSP hotline are based in four different locations, one in each of the county's human services regions. The four human services regions provide integrated community-based services that respond to the unique needs of individuals and families within a specific geographic area.
In addition, the multilingual staff can assist callers in Amharic, Dari, Farsi, Hindi, Italian, Korean, Pashto, Punjabi, Somali, Spanish, Swedish, Tigrinya, and Urdu. Services are also available in other languages through the use of an interpreter.