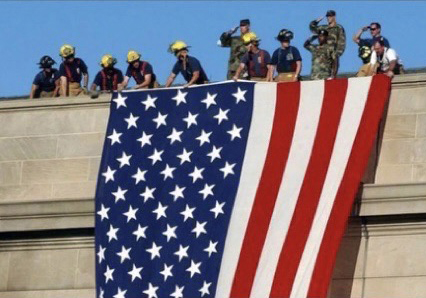 Fairfax County will honor those we lost and those who answered the call during the tragic events of Sept. 11, 2001, at a 20th Anniversary Remembrance Ceremony on Saturday, Sept. 11 at 2 p.m. The event will be held at Bailey's Crossroads Volunteer Fire Department, 3601 Firehouse Lane in Falls Church, where many first responders deployed from to assist at the Pentagon.
How to Watch
The community is encouraged to view the ceremony online:
Fairfax County Government Channel 1016 (Cox) and Channel 16 (Verizon/Comcast)
"Most of us can remember where we were when we first learned of the 9/11 attacks on the World Trade Center and the Pentagon in 2001. While it doesn't seem possible that 20 years have passed since that terrible day, for many of our professional and volunteer fire and rescue personnel and other first responders, the events of that day are forever sealed in their memories," said Mason District Supervisor Penny Gross. 
Scheduled speakers for the event include Board of Supervisors Chairman Jeffrey McKay and Gross, as well as Fire and Rescue Chief John Butler and Police Chief Kevin Davis. The ceremony is taking place in the afternoon in order to accommodate the Pentagon's 9/11 Ceremony and morning volunteer activities at the Government Center.