If you drive by Silver Line Phase 2 rail stations along the Dulles Toll Road from Reston to Dulles Airport and into Loudoun County, you might notice the lights have been on at night recently.
Despite this light at the end of the proverbial tunnel, the stations are not yet open. Trying to enter these facilities is trespassing. Each pavilion entry is clearly marked CLOSED.
Metropolitan Washington Airports Authority project crews continue to work on a punch list and other final touches required before the Washington Metropolitan Area Transit Authority (Metro) accepts the system and begins preparations for passenger service. The pavilions, pedestrian bridges leading to stations, tracks and other areas will remain closed until passenger service begins.
"We understand that the stations, support structures and other areas may appear interesting, but we are asking that everyone comply with signs, barricades and other restrictions around the Silver Line station construction sites," said project spokesperson Marcia McAllister.
New Stations
Loudoun Gateway and Ashburn (Loudoun County)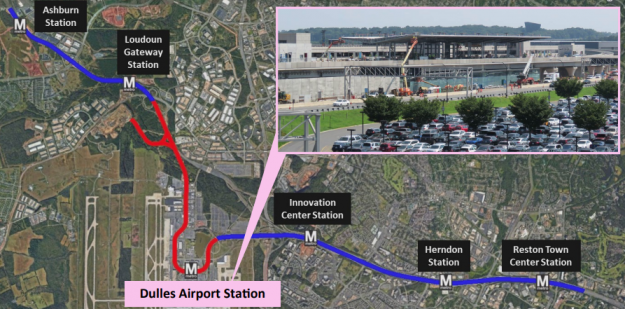 Fairfax County Continues Preparations for Silver Line Phase 2
The Board of Supervisors approved Fairfax Connector bus service changes in the Reston-Herndon area that include connections to the new Silver Line stations in Fairfax County. These service changes will go into effect when WMATA begins service to the new stations.
View detailed route changes and new bus schedules for the Reston-Herndon area
Our team also been working to complete trail and sidewalk connections in Herndon and Reston, including the Arrowbrook Trail to Innovation Center Station.