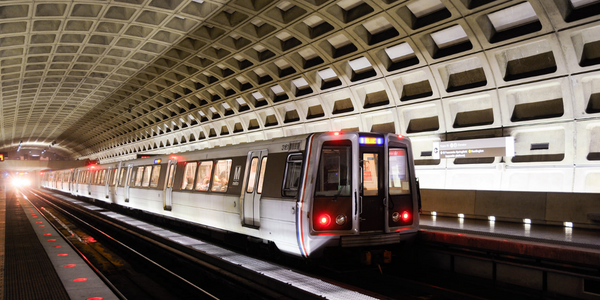 UPDATED Sept. 30: Metro Extends Closure South of Reagan National Airport Until Nov. 5
A section of the Metrorail Blue and Yellow Lines in Virginia will be under construction Sept. 10- Nov. 5 in order to connect the new Potomac Yard station to the system. Additionally, there will be an 8-month shutdown of the Yellow Line between Pentagon and L'Enfant Plaza for tunnel and bridge rehabilitation work.
Metrorail Service Impacts
North of Reagan National Airport Metrorail Station: no Yellow Line service north of the Reagan National Airport: use Blue or Green Lines.
 
South of Reagan National Airport Metrorail Station: no rail service south of Reagan National Airport from Sept. 10 - Nov. 5. 
Free Metrobus shuttles will be provided, connecting to all affected stations. During construction, Metro is removing the usual $4.95 parking fees, providing free parking at the following Metrorail garages: Van Dorn Street, Franconia-Springfield and Huntington.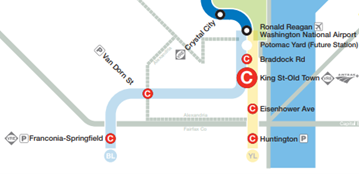 Blue & Yellow Line construction begins 9/10. Here are more travel alternatives:
🚌Free Metroway bus service
🚗Free parking at Franconia-Springfield, Van Dorn St and Huntington stations
🚗Waived non-rider parking fee at Franconia-Springfield Stationhttps://t.co/zcBX1Z4QJz #wmata pic.twitter.com/zcIGp8RWoj

— Metro (@wmata) July 28, 2022
Fairfax Connector Service Impacts
All Fairfax Connector routes remain the same.
However, instead of transferring from a Connector bus to Metrorail, Connector passengers who arrive at one of the closed stations will instead board a free shuttle bus.
Also, where passengers get on/off might change slightly at these four Metrorail stations: Huntington, Van Dorn Street, Franconia-Springfield, and Crystal City.
Utilize Fairfax Connector Routes 393/394 & 395/396 (Weekday Rush Hour Service Only) as supplemental service.
Alternate Travel Options
Fare-Free Rail Service
Ridesharing and More
For other travel options such as ridesharing visit Fairfax County Commuter Services to learn about services and programs.