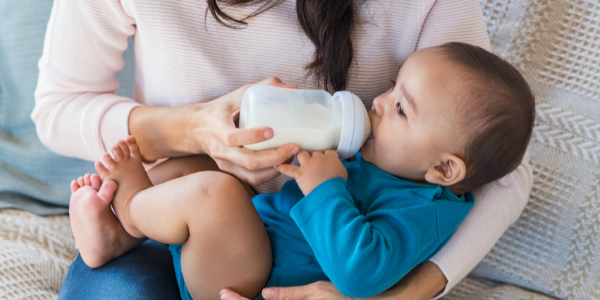 As the nationwide infant formula shortage continues due to a temporary shutdown of the plant that manufactures about half of the U.S. supply, local families are impacted, too.
Our Health Department advises if you have any questions, check with your baby's physician or healthcare provider, especially if your baby is on a restricted diet or has any medical conditions.
"This is a very challenging time for many parents and caregivers who are doing all they can to ensure their babies are receiving optimal and safe nutrition during the current infant formula shortage," says Joanna Hemmat, assistant director of the Health Services Division. "There are alternatives and substitutions available to help families as they navigate the shortage. We recommend you reach out to your baby's health care provider for guidance on alternative formula options. And if you are a WIC participant, Virginia WIC has expanded the number of alternative formula options available to you. We urge parents not to resort to diluting formula to stretch it out or to use online "Do it Yourself" recipes, as both alternatives can lead to nutritional imbalances and are very risky to the baby's health."
Finding Formula Tips
Here are some tips if your formula is hard to find:
Call a store to check on the stock or check the online inventory before going to purchase formula.
Check smaller markets and drug stores when the big box stores and supermarkets are out.
Call your OBGYN or pediatrician to see if they have in-office samples or can suggest a formula that is nutritionally similar to your infant's typical formula that may be available in stores.
Try a different formula if your baby is not on a restricted diet and has no major health problems. If you are a WIC participant, you may be able to find another type of formula. See the updated substitution form: Updated Formula Substitution Form.
If you choose to shop online, purchase only from well-recognized distributors and pharmacies rather than individually sold or auction sites. You may not know what you're actually getting, and there is little or no control over pricing.
Do not import formula from overseas. These products will not be FDA cleared, and may contain contaminants or ingredients inappropriate for your baby.
Purchase only a 10-14-day supply each time. It appears unlikely that the supply is going to run out, and hoarding will only make shortages worse.
Call Formula Manufacturers
Additionally, you wish to contact one of the manufacturer hotlines for more information:
Gerber's MyGerber Baby Expert : reach a certified nutrition or lactation consultant by phone, text, Facebook Messenger, web chat, or video call, who can help you identify a similar formula that may be more readily available.
Abbott's Consumer Hotline: call 1-800-986-8540.
Abbott's urgent product request line : ask your OBGYN or your infant's pediatrician to submit an urgent product request by downloading and completing the form - PDF .
Reckitt's Customer Service line: call 1-800 BABY-123 (222-9123).
Do Not Make Homemade Infant Formula or Water Down Formula
This can be dangerous for your baby.
Adding extra water to infant formula to "stretch it out" is not safe and can put your infant at nutritional risk and lead to serious health problems. Always follow the instructions on the formula.
Recipes for homemade formulas may be circulating on the internet, but they are NOT SAFE. Even if only safe ingredients are used, these formulas will not provide adequate nutrition. Learn more about these concerns from the U.S. Food and Drug Administration and the American Academy of Pediatrics .
Only medical professionals are qualified to provide advice on acceptable alternatives to formulas that may currently be difficult to find. Please talk with your pediatrician about safe and appropriate feeding alternatives for your child if needed.