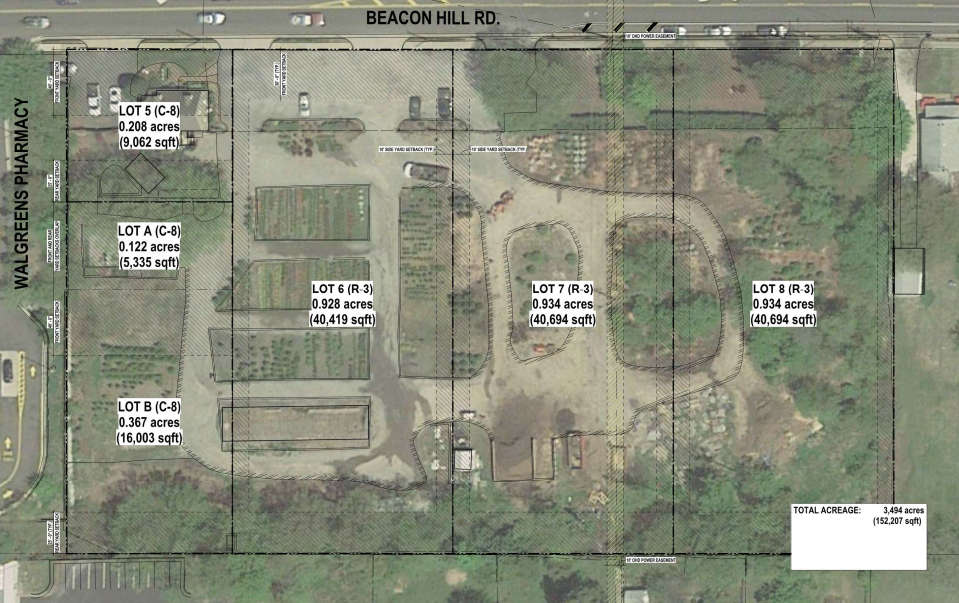 A new state-of-the-art facility would serve the community and meet multiple needs at one location.
The proposed Fire and Rescue station will be a modern, green facility that allows for faster emergency response times.
New housing facility would replace the 103-year-old Eleanor Kennedy Shelter building.
Community engagement begins with virtual meetings on April 24 and 26.
Two long-planned community building projects are coming together at the former Hybla Valley Nursery  site on 2801 Beacon Hill Road, Alexandria, VA 22306.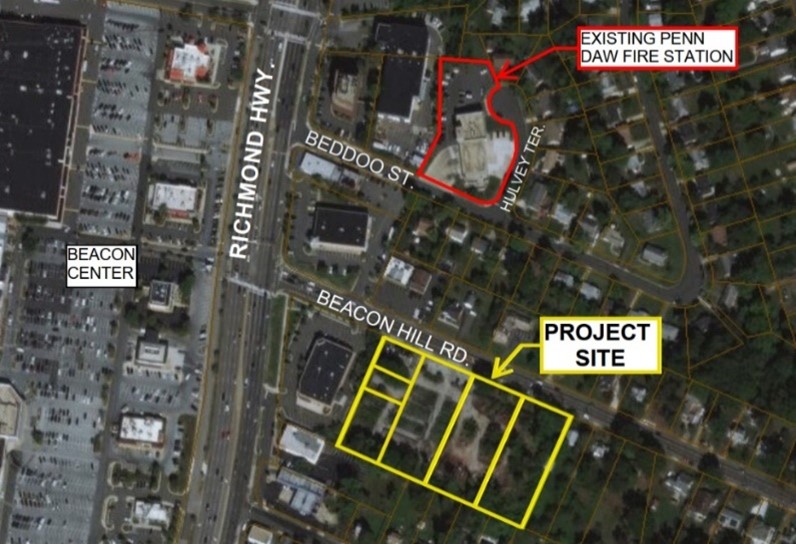 A Modernized Fire Station
In 2015 Fairfax County voters approved a Public Safety Bond Referendum for the renovation and expansion of five of the county's fire stations, including the Penn Daw Fire Station. The current station was built in 1967 as a volunteer station and is one of the busiest and oldest in the county. Due to its age, the current station needs multiple improvements: 
the apparatus bays are outdated and undersized with very low ceilings and are unable to house larger, heavier equipment.
this station lacks adequate living quarters for female personnel and the building systems have reached the end of their service life.
a new, modern, green facility will help conserve energy and water while providing a healthy indoor environment for Fire and Rescue personnel.
In June 2020, Fairfax County purchased the 3.5-acre Hybla Valley Nursery site at 2801 Beacon Hill Road in Alexandria, an advantageous location for a modernized Penn Daw Fire Station to better serve the growing Mount Vernon community. The Beacon Hill Road location gives first responders direct access for emergency response.
 
Emergency Housing, Supportive/Affordable Housing
In 2016, Fairfax County voters approved funding to renovate or replace four emergency housing facilities or shelters through a 2016 Human Services and Community Development Bond Referendum. The existing Eleanor Kennedy Shelter operates from a 103-year-old converted pump home location on Fort Belvoir with no options for additional supportive housing. In addition, renovating this dilapidated shelter is not practical due to its age and poor design.
Best practice calls for having emergency housing be a part of a crisis response system that provides safety, service connections, and individual and family connections to permanent housing. This new facility will serve as part of the crisis response system that connects individuals experiencing homelessness to resources and supportive services that will chart their course toward housing stability.
In addition to providing emergency housing for individuals experiencing homelessness, the facility will be equipped to provide meals, training and employment resources, as well as potential supportive/affordable housing for individuals who may need additional assistance to remain housed.
 
Community Engagement
Mount Vernon District Supervisor Dan Storck convened the Penn Daw Fire Station and Supportive Housing Advisory Committee to engage the community on the proposed collocation plan. The committee includes members from nearby communities, public safety representatives, faith community and affordable/emergency housing providers, the Mount Vernon Council of Citizens Association, the Mount Vernon Lee Chamber of Commerce, Fort Belvoir and county staff.
The group has been meeting monthly since November 2020. Committee members will provide information about the project to their individual community groups and seek feedback.
County staff will begin engaging the greater Mount Vernon community with two virtual meetings on April 24 at 10 a.m. and April 26 at 7 p.m.
Zoom Virtual Meeting Links
Penn Daw Fire Station, Emergency & Supportive Housing
April 24, 2021 10:00 AM. 
Join from PC, Mac, Linux, iOS or Android: https://us02web.zoom.us/j/85161330746
 
Penn Daw Fire Station, Emergency & Supportive Housing
April 26, 2021 07:00 PM Eastern Time (US and Canada)
Join from PC, Mac, Linux, iOS or Android: https://us02web.zoom.us/j/83208840570
Or Telephone for either meeting: 602-333-0032, 888-270-9936 (U.S. Toll Free)
Conference code: 711201