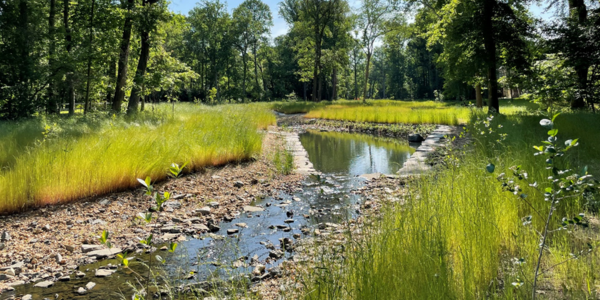 Fairfax County is home to more than 750 miles of perennial streams, of which about 70% to 80% are in fair to very poor biological health. To address this, our Department of Public Works and Environmental Services regularly restores these streams to improve their water quality.
Why Is Stream Restoration Necessary?
Stream restorations are needed to improve water quality and to prevent runoff of pollutants into the Chesapeake Bay (Bay). The amount of nitrogen, phosphorous and sediments that can be present in the Bay is governed by the Environmental Protection Agency's Total Maximum Daily Load (TMDL) requirements.
Eroding stream banks are the major contributor of sediment to downstream waters and the Bay. Excess quantities of sediment are known to smother aquatic life in our streams and be a source of phosphorous, which contributes to algal blooms and dead zones in the Bay. Stabilizing streams reduces the overall amount of sediment in stormwater flows.
Raising the bed of the stream also allows storm flow to enter the floodplain, reducing volume, velocity, energy and channel erosion and allows sediment and pollutants to settle out before reaching the Bay.
Stream restorations are the most cost-effective technique to address the pollutants of concern for the Bay TMDL. It minimizes erosion and sediment loss, protects public infrastructure and enhances site ecology. It also helps reconnect streams to their floodplain where necessary and restores tributaries and outfalls. When streams become degraded and eroded, the surrounding trees along their banks that would normally keep the stream intact can become exposed and weakened, making them more likely to fall, which can lead to downcutting and widening.