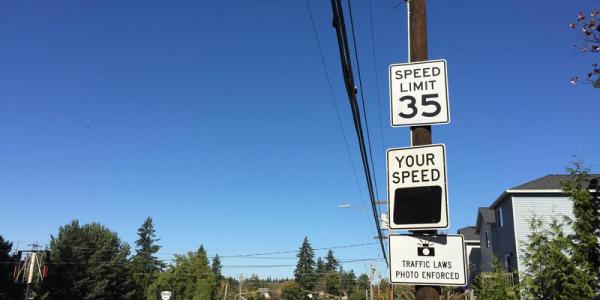 Slowing down drivers and improving safety are the objectives of a new pilot program that now see photo speed monitoring devices (speed cameras) installed in nine school zones and one construction zone.
Following a public hearing at their Tuesday, Dec. 6, meeting, the Fairfax County Board of Supervisors voted to move ahead with the pilot, amending the county code to include a section on photo speed monitoring devices.
School Zone Speeding
An analysis by the pilot work group indicated that speeding in school zones is prevalent. Nearly 95% of drivers in the school zone at Springfield's Irving Middle School and more than 40% of drivers in the school zone at Bonnie Brae Elementary School were traveling 10 mph or more above the speed limit during a morning drive sample period last year. In the five school zones surveyed, hundreds and sometimes thousands of drivers exceeded the speed limit by more than 10 mph during the sample period.
Focus on Safety
At a public safety committee meeting in October, board members emphasized that the goal of the program is to change behavior and make the roads safer. An escalating fine structure, starting at 10 mph over the limit, maxes out at $100 (for drivers traveling 20 mph or more over the limit) and there are no points or insurance impacts resulting from a citation. A 30-day grace period will begin when the pilot launches.
"This pilot program has one goal: to improve the safety of our roads," said Board of Supervisors Chairman Jeffrey C. McKay. "These cameras will help to protect pedestrians, especially around some of our most congested and vulnerable locations. We do not want revenue from this program. Instead, we are looking forward to seeing how it enhances safety in Fairfax County."
Speed camera locations are identified with signage, per state code, placed within 1,000 feet of each camera. The locations would also be posted on the county's website. "We're not trying to trap people," said Captain Alan Hanson, commander of the Fairfax County Police Department Traffic Division.
Studies indicate that speed camera enforcement is effective in improving safety —reducing speeding, accidents and injuries.
The pilot would be managed by existing police department staff assigned to light duty detail.
Timeline
Following the six-month, 10-camera pilot, countywide photo speed enforcement would be implemented in two phases. Phase 1, in FY24, would include 50 photo speed enforcement cameras distributed between school and work zones. Phase 2, in FY25, would add 30 cameras for school zones. Fully implemented, it is anticipated that administration of the program would require four additional positions within the police department.
Cost
Pilot program costs include an estimated $3,000 per camera per month plus associated equipment and signage. At full implementation, the county's photo speed enforcement program would cost an estimated $3.8 million annually, including staff and equipment. That estimate doesn't factor in fines that would help offset costs.