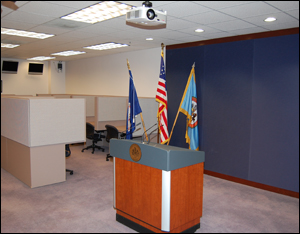 The Press Room is designed for members of the working media. Located next to the Board Auditorium on the first floor of the Government Center in Room 158, it is equipped with workstations for the media as well as a briefing area where the media can record or broadcast official county media briefings.
The Press Room Briefing Area is equipped with:
podium
audio/visual system
microphones and television studio quality lighting
The media may record audio and video or broadcast live from the Press Room. The Briefing Area is used by the county to announce major programs and initiatives. During emergencies, briefings are typically conducted from the nearby McConnell Public Safety and Transportation Operations Center.
Press Room Workstations are assigned to working media that cover the Fairfax County Government on a regular basis.
Each workstation has:
electrical outlets
Internet connection (Ethernet)
pre-wired for telephone service (media have the option of installing telephone service at their work station)
The Press Room is also equipped with wireless Internet access and has four television monitors to access the local news channels and Fairfax County Government cable Channel 16.
Press Credentials
The Press Room is secured 24 hours a day and accessible only with a county issued access card. Members of the media that would like access should contact the Fairfax County Office of Public Affairs to receive an access card. Media that only plan to cover events on a sporadic basis can present a media credential to building security located near the information desk at the main entrance to gain temporary one-day access.
For more information, contact the Office of Public Affairs at 703-324-3187, TTY 711, or by e-mail at publicaffairs@fairfaxcounty.gov.
12000 Government Center Parkway
Fairfax, VA, 22035