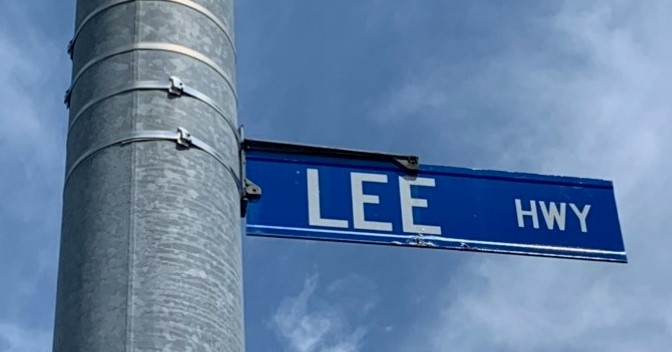 The Fairfax County Board of Supervisors has appointed a 30-member task force to examine renaming Lee Highway (Route 29) and Lee Jackson Memorial Highway (Route 50). The Confederate Names Task Force chaired by Evelyn S. Spain includes residents, civic organizations, homeowner associations, faith groups, historical groups and the business community.
A complete list of task force members is available at the Fairfax County Department of Transportation website. 
"In Fairfax County, our diversity is our greatest strength and it's important that we honor and celebrate that diversity," said Fairfax County Chairman Jeffrey C. McKay. "We cannot ignore what the Lee and Lee Jackson Memorial Highway names represent in our community and especially to our African American neighbors. The Confederate Names Task Force, which includes a diverse group, will examine and make recommendations on how both roadways can better reflect our values as we chart a positive path together for the future."
What will the Confederate Task Force do?
The task force will meet monthly to discuss whether the highway names should change and come up with a list of potential new names to present to the Board. Their discussions will be assisted by an expert facilitator as they deliberate with community engagement playing a central role in the process. The task force will coordinate also with neighboring jurisdictions considering name changes to the same highways.
Why is the county considering changing the names?
Through One Fairfax, the county is committed to advancing racial and social equity to foster a healthy, vibrant and equitable community. The policy, adopted in 2017, requires the county to consider equity when making new policies or delivering programs and services.
Last year, the Board asked the History Commission to create an inventory report of Confederate monuments, street names and places in Fairfax County. The report, completed in December of 2020, explains why some county locations have Confederate associated names and lists 157 locations within the county where they exist. The report did not include federal property, public schools, places of worship, or cemeteries. Lee Highway and Lee Jackson Memorial Highway were the primary Confederate named highways on the list.
What will happen next?
The Confederate Task Force meetings will be open to the public. The task force will make a recommendation to the Board of Supervisors, and the Board will make the final decision about changing the names of Lee Highway and Lee Jackson Memorial Highway after extensive community engagement.