One Fairfax is a joint social and racial equity policy of the Fairfax County Board of Supervisors and School Board. It commits the county and schools to intentionally consider equity when making policies or delivering programs and services.
It's a declaration that all residents deserve an equitable opportunity to succeed—regardless of their race, color, sex, nationality, sexual orientation, income or where they live.
About The Policy
One Fairfax is a framework—or "lens"—that will be used to consider equity in decision-making and in the development and delivery of future policies, program and services. It will help county and school leaders to look intentionally, comprehensively and systematically at barriers that may be creating gaps in opportunity.
It establishes:
Shared definitions.
Focus areas.
Processes and organizational structure.
The policy identifies 17 areas of focus to promote equity including community and economic development, housing, education, environment, and transportation.
To learn how the Fairfax County Public Schools are implementing the policy, visit the FCPS One Fairfax webpage.
Equity Defined
One Fairfax defines equity as:
"The commitment to promote fairness and justice in the formation of public policy that results in all residents – regardless of age, race, color, sex, sexual orientation, gender identity, religion, national origin, marital status, disability, socio-economic status or neighborhood of residence or other characteristics – having opportunity to fully participate in the region's economic vitality, contribute to its readiness for the future, and connect to its assets and resources."
Equity Benefits Everyone
One Fairfax recognizes equity is also an economic imperative.
Economic research shows that counties with greater social and racial inclusion have:
Stronger and longer periods of economic growth.
Faster per capita income growth.
Increased wages as adults for children who grew up in lower—and higher—income families.
Research institutes PolicyLink and the Program for Environmental and Regional Equity at the University of Southern California studied the economic impact of inequity in Fairfax County. It found that the county's gross domestic product would have been $26.2 billion higher in 2012 if its racial gaps in income were closed.
For us to compete in the global economy, it is vital to help people reach their highest level of personal achievement. Not only does it create greater economic security for families, but also it generates increased business revenues and jobs.
For this reason, our strategic plan to expand and diversify the economy calls for driving growth through equity, among its key strategies.
This infographic explains we're applying an equity lens, our focus areas, core approaches, and outcomes.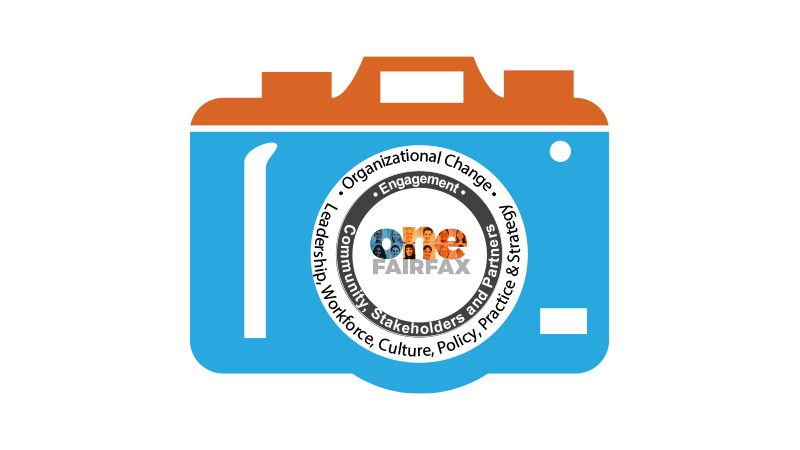 Watch this video to learn more about One Fairfax.
Background Documents
There were many past milestones, studies and initiatives in the journey to develop the One Fairfax Policy. Read some of them here:
Contact
To learn more, contact Karla Bruce, Chief Equity Officer, at 703-324-5360, TTY 711.
The Chief Equity Officer provides overall management of the One Fairfax strategic framework by serving as the county's racial and social equity liaison, engaging stakeholders and partners and advising and supporting the Board of Supervisors, executive leadership and department Leadership in shaping and directing policy and practice to create equitable opportunity for all Fairfax County residents.