News Highlights
Columbia Crossroads will bring up to 370 apartments to mid-rise building at the corner of Columbia Pike and Moncure Avenue, helping to revitalize this area in Bailey's Crossroads.
The approved rezoning allows for the apartments, three townhomes and a possible county office building.
The county's existing Bailey's Crossroads Community Shelter will remain until October 2019 when  a new permanent shelter opens at a commercial property a quarter mile away.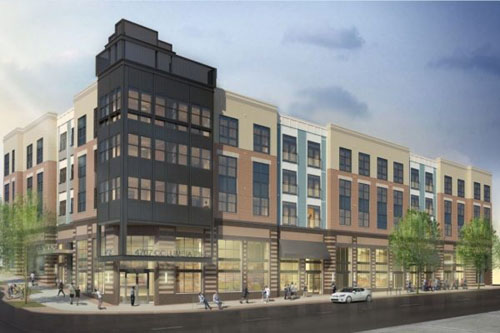 About a year ago, it looked likely that Bailey's Crossroads would see a 375-unit apartment complex erected at Columbia Pike and Moncure Avenue.
However, developer Avalon Bay withdrew its application last year, leaving the site's revitalization uncertain. The vision became a reality today when similar plans by the site's new developer Weissberg Corporation were approved.
The Board of Supervisors signed off on their rezoning application on Tuesday, along with conceptual development plans. The rezoning covers a 7.39-acre plot that includes property owned by the corporation and the county, and it allows for up to 370 apartments or condos, three townhouses and a possible county office building.
 "The Columbia Crossroads development has been a long time coming, but a thoughtful, patient community process produced a proposal - new housing, transportation connections, and a future office building - that will be a vibrant addition to historic Bailey's Crossroads, an extraordinarily diverse area of Mason District and Fairfax County," said Supervisor Penny Gross.
 While the development plans are still conceptual, they call for a single, multi-family building at the corner of Columbia Pike and Moncure Avenue. It would feature a "donut" design, wrapping itself around a parking garage and an open space 'court yard' in the center. About 43 of the total units would be provided as workforce housing.
 The plans also allow for street-level retail or restaurant option, and the developer also has possibility to include an independent or assisted living facility in the building.
 Just south of the new apartment or condo, the overall development could include three, townhouses with two-car garages and driveways.
The approved plans also offer an option to add three additional units in its multi-family building instead of building the townhomes. In this instance, the location for the townhomes would become open space.
The future apartment or condo building would rise up on the site where the county's Bailey's Crossroads Community Shelter sits today. Under a real estate deal the board approved in March, the county will exchange this land for an adjacent 1.49-acre property owned by the developers.
 As a key part of the approval, the existing shelter will remain open until October 2019 and when a new permanent shelter is built on a commercial property a quarter mile away at 5914 Seminary Road. This property was the site for an old vet clinic that has been demolished to make way for the new 52-bed shelter and transitional housing facility that's expected to begin construction spring 2018.
The rezoning also allows the county to use its property that's next to the future apartments to develop an 180,000 square-foot office building. 
However, the board's zoning approval allows the office building to include other uses too, including a child care center, independent living facility, medical office, restaurant, retail, bank and a public park.
The potential office would be located on a site that includes Landmark Atlantic's aging office building. The county bought this property last week for $6.3 million, as the initial step of realigning Seminary Road envisioned by the Comprehensive Plan and to allow for development of the entire site in a more comprehensive, cost effective manner.  With the Landmark parcel, the county's holdings will total approximately 2.76 acres.  The county will tear down the existing office building to leave an open site for sale or future development.
The overall development plans include building out a local street grid that will help spur future revitalization efforts in the area, especially from Center Lane to the southeast. The plans will create two new roads, including a future connection to Seminary Road.
Developer Weissberg will build a new public road that will run parallel to Columbia Pike off of Moncure Avenue. This street will be south of its new residential building, and it will eventually be extended along to intersect with a future road the county will build to connect to Seminary Road.
A new private road that runs north to south will also be constructed, helping to carve the developer's and county's properties into two distinct blocks.
Before Weissberg can move forward, it still must get approval on its final development plans which it expects to submit to the county in 2018 or 2019.
This project supports the county's strategic Economic Success Plan, which calls for creating higher density developments in revitalization areas and realizing the value on county land. The future development will be located in the heart of the revitalization district for Baileys Crossroads.
The economic plan also seeks to use public-private partnerships, like this joint-venture, to maximize the return on investment potential for all county assets, including land and facilities, by leveraging partnership opportunities with both private and public partners to construct and operate infrastructure and facilities throughout the county.
#  #  #