News Highlights
County officials encourage all startups to answer the census by Jan. 5, 2018
Fairfax County is sponsoring this second, annual census because leaders want to encourage the birth of more startups, which generate an outsized impact to economic growth.
---
For the second year, Farifax County is sponsoring Fosterly's annual regional startup census, and county officials are encouraging entrepreneurs in the county to participate.
On average, it only takes about 20 minutes to complete the online census questionnaire, and it is open to all startups and companies participating in Virginia, D.C. and Maryland entrepreneurial ecosystem. The information provided will be anonymized and used to generate community average in a final report that will be published early next year.
The count is intended to offer granular data about the DC region's startup and innova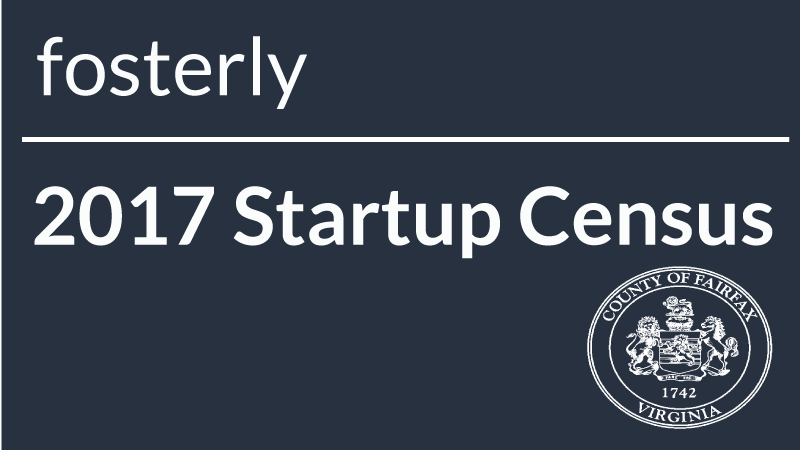 tion ecosystem. Fairfax is financially backing the effort because county leaders want to spur more entrepreneurship to help grow and diversify the economy.
The census will help support the startup community by:
Providing participating companies with a free personalized year-to-year and regional benchmark report.
Empowering local governments, economic development agencies and BIDs to leverage feedback for economic growth and planning purposes.
Putting people to work by powering Fosterly's Spring 2018 gender and race blind intern match.
Last year's census—the first conducted by Fosterly—found that Fairfax County led with the most startups in Northern Virginia. The county was the headquarters location for 14.5 percent of these young, dynamic firms. The 2016 census tallied responses from hundreds of startups, and Fosterly analyzed 32,000 data points to produce the 75-page summary report.
Fairfax County's plan to boost the economy aims to foster an environment where successful entrepreneurship breeds more even more startup activity. These young firms produce an outsized economic impact, economists say.
Startups employ three percent of the nation's workers every year—yet they account for 20 percent of net jobs created. This finding came from research conducted by economists from the U.S. Census Bureau and University of Maryland.
#  #  #