News Highlights
Read Fairfax County's new Sustainability Intiatives Report to learn about how we're working to protect the planet everyday.
Behind the scenes, Fairfax County works to make its everyday operations environmentally sustainable, and these efforts are highlighted in a new report.
"Fairfax County is doing great work in promoting sustainability and protecting our precious natural resources," said Fairfax County Chairman Sharon Bulova. "From solar programs to tree coverage to green transportation initiatives, you are invited to learn more about Fairfax County's latest environmental successes in our latest Sustainability Initiatives Report."
This comprehensive annual report details our environment sustainability efforts, and here are four things you might know not about what we're doing to protect the planet:
1. Installing LEDs to Save Energy - and Money
Our facilities managers aim for a yearly 1 percent reduction in energy use per square foot in many of our buildings. So far, we have been meeting or exceeding our goal despite substantially increasing our total square footage as we add new or renovate buildings.
We are meeting this goal by retrofitting, upgrading and installing new equipment like LED light bulbs in libraries, RECenters and many other buildings.
Since July 2016, we've replaced 2,278 bulbs in county facilities with LEDs. This has resulted in:
$482,769 in lifetime savings on electricity costs
More than 6 million kilowatt hours less in lifetime energy use
This decreased electricity use is equivalent to avoiding the greenhouse gas emissions from:
962 cars driven for a year
4.9 million pounds of coal burned
10,398 barrels of oil consumed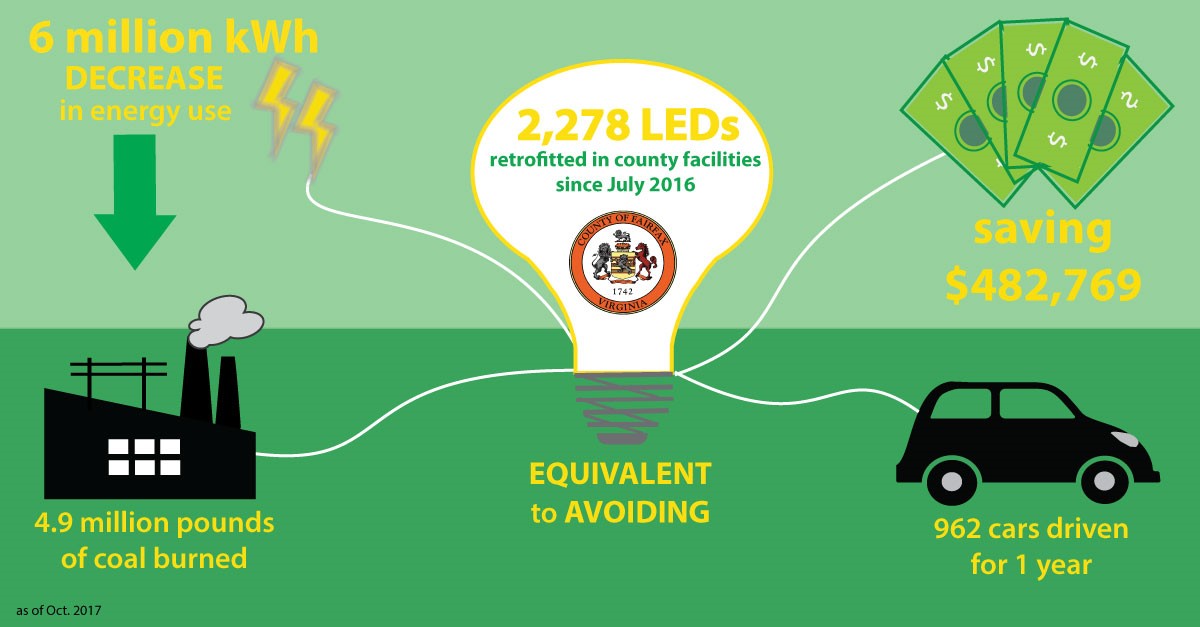 2. Reusing Wastewater to Protect the Bay
We're reusing clean, treated water from our wastewater treatment plant—432 million gallons worth in 2016—which helps to protect the Chesapeake Bay.
Instead of using drinking water, we're putting this reclaimed to use to water the Laurel Hill Golf Course and the Lower Potomac Ball Fields. And, about 1.3 million gallons per day is also used as cooling water at the waste-to-energy plant.
By reusing this water, we're reducing the amounts of nitrogen and phosphorus that reach the Chesapeake Bay. We're cutting greenhouse gas emissions too, saving 1.1 pounds of equivalent carbon dioxide (CO2e) per kilowatt hour. This emissions savings results from the lower electricity use to produce this reclaimed water compared to drinking water.
3. Turning Cooking Oil Into Biofuel
Thanks to residents, the county achieved a 50 percent recycling rate in 2016—twice the state's goal. Besides the usual paper, cans, plastic bottles, the county sells used cooking oil to companies that turn it into biofuels. Before this effort, the oil was burned along with household trash.
4. Saving Bees and Pollinators
Last year, we planted a one-acre pollinator meadow at the Government Center. We took this action because 40 percent of pollinator like bees face extinction, and this meadow, seeded with native plants and wildflowers, offers food for theses endangered insects that fertilize many of the foods humans eat like potatoes and blueberries. This meadow also helps prevent and treat polluted stormwater from flowing into our streams.
As a result of the success of this first meadow, we've expand the effort, and a similar meadow will be planted at our Alban Maintenance facility in Springfield. This new meadow will treat stormwater runoff before it runs into Accotink creek.
We've also taken a further step to work with George Mason University to install 12 honeybee hives at the at the I-95 landfill complex. As part of the project, nearly five acres of turf at the landfill have been seeded to grow a native meadow for the bees.
# # #