We offer a number of programs here at the shelter. Please read more about each of these below, and check back often for new additions.
Birthday Parties
We offer birthday party packages for kids ages 5-12 years old, for groups of up to 15 kids. Parties include room rental and decoration, hands-on fun with shelter pets, games and activities, and plates and utensils. Email us at animalshelter@fairfaxcounty.gov or call us at 703-830-1100 to schedule a birthday party!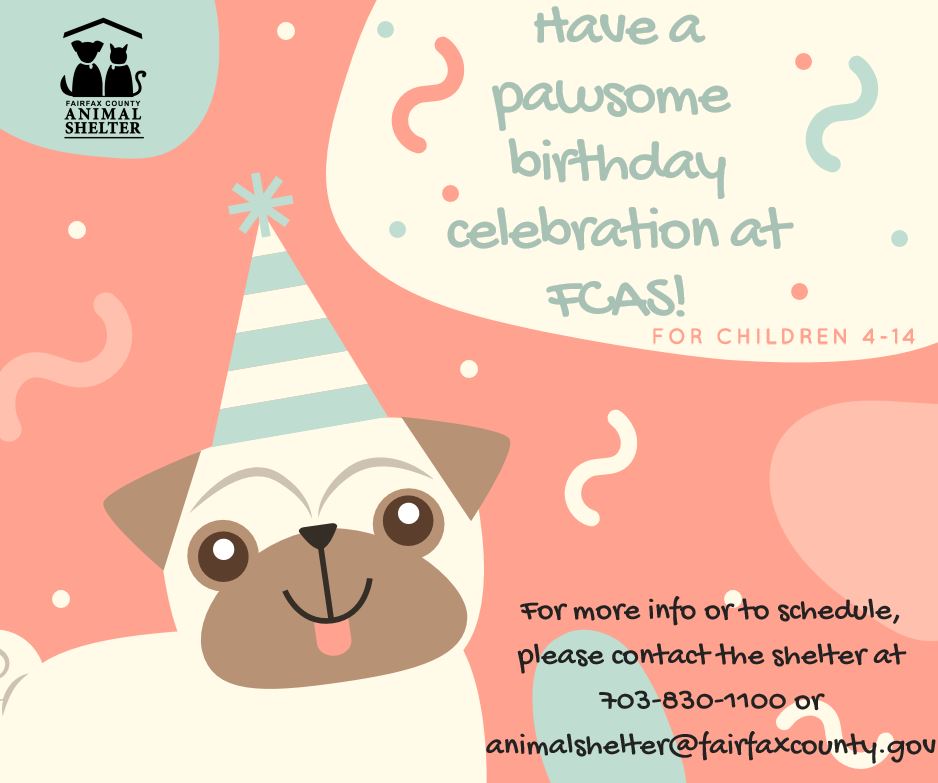 Shelter Tours
We currently offer group tours for Girl Scouts, Boy Scouts, and other kids' groups. Tours lasts about an hour to an hour and a half. Please email the shelter at animalshelter@fairfaxcounty.gov to schedule tours in advance for the following days and time ranges:
Wednesdays, 3 to 7pm
Thursdays, 3 to 7pm
Fridays, 3 to 7pm
Animal Lover's Book Club
Book club meets at 7pm on the second Wednesday of every month. Follow us on Facebook for announcements about each month's book selection, or email us at animalshelter@fairfaxcounty.gov.
Pet Loss Support Group
If you have lost a beloved pet and need someone to talk to, please come join us for our monthly pet loss support group. They are held at the shelter at 7pm, the third Wednesday of every month. No registration is required.