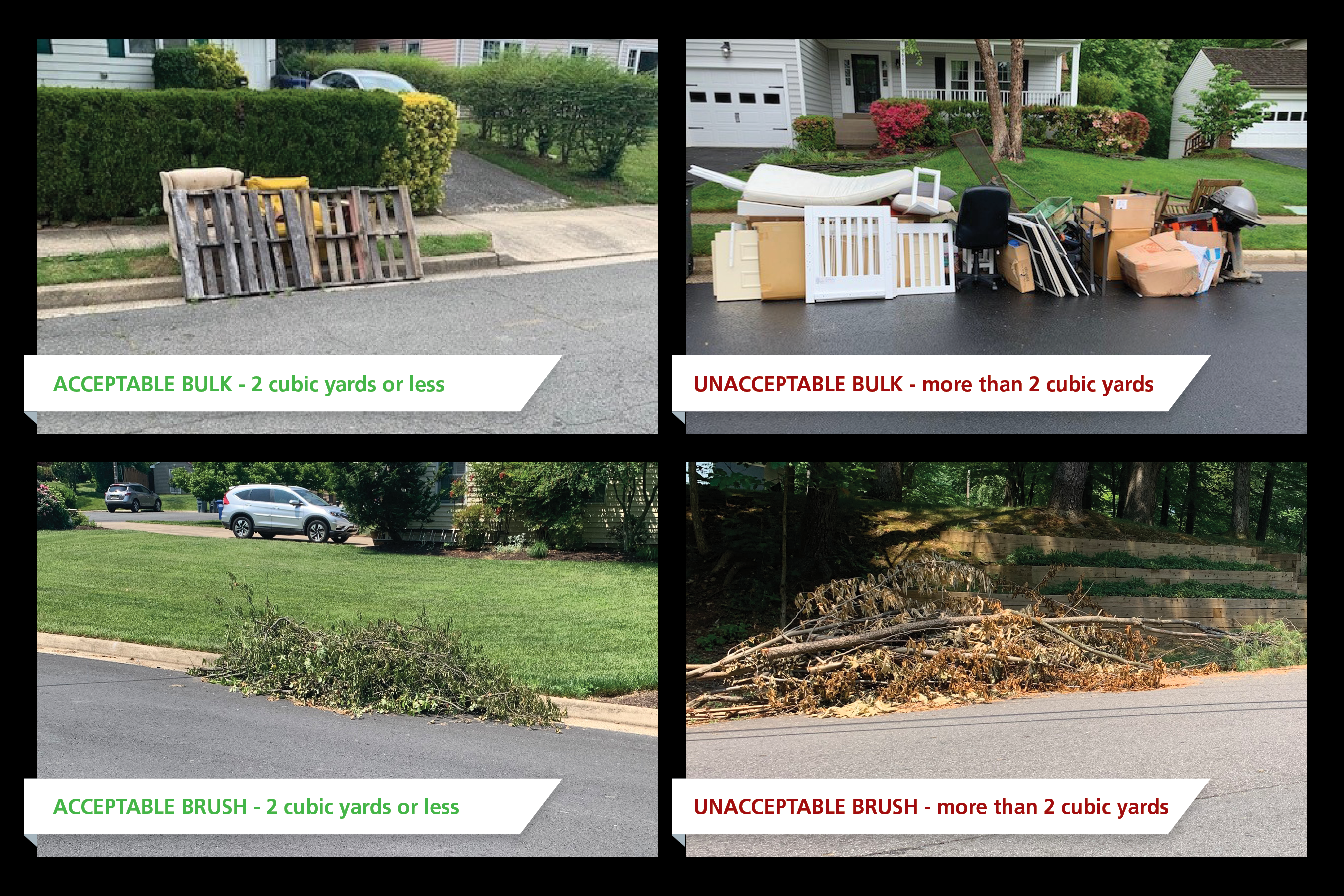 Special pick-up going from 12 cubic yards to two cubic yards, or 6 feet long x 3 feet deep x 3 feet high.
In October 2020, a Statement of Service (SOS) was mailed to customers with information on the 2-cubic yard limit. "Customers" is inclusive of county residents who receive trash and recycling collection from Fairfax County Government.
In March 2021, a reminder card was mailed to customers regarding the 2-cubic yard limit.
Special pick-ups are undergoing some changes for county residents who receive trash and recycling collection from Fairfax County Government.
These program changes take effect July 1, 2021, as noted in prior mailings to customers in October 2020 and March 2021.
The most notable change is a reduction in the maximum free collection limit from 12 to 2 cubic yards.
Watch this video for an overview of what's changing and what is not:
WHY IS THE LIMIT CHANGING?
For many years the maximum amount for special pick-ups has been 12 cubic yards. It was collected at no charge. After analyzing the program, it was determined there is now a need to align the service with our ability to financially support it.
 
WILL THERE BE A FEE FOR SPECIAL PICK-UPS?
There will be no charge for piles measuring 2 cubic feet or less. There will be a charge to remove piles larger than 2 cubic yards. Beginning July 1, customers can measure the size of the pile of debris, then go online and enter the dimensions of the material to find out the cost.
 
IS THE NUMBER OF SPECIAL PICK-UPS ALLOWED CHANGING?
County customers will continue to receive five special pick-ups from July 1 through June 30 each year. They collections must be scheduled in advance and must be two cubic yards or less.
ARE THERE ANY SPECIAL CONSIDERATIONS FOR SPECIAL PICK-UPS?
Yes. Here is a short list of guidance to help the collection go smoothly and to keep workers safe:
Maintain a 20 ft. clearance on all sides and above the materials being collected.
Do not place items under utility wires or tree branches.
Keep items less than 6 ft. in length.
Set out your items by 6 a.m. the day of collections.
If materials will be at a location other than the curb of your address (e.g., around the corner or across the street), please include that information in the comments field on the form.
The county is not responsible for items placed near the special pick-up pile.
WHAT TYPES OF ITEMS CAN BE DISPOSED OF IN A SPECIAL PICK-UP?
The webpage and online scheduling form provide specifics on acceptable items, which are included in the following categories.
Freon
Brush (max of 6 ft. in length and 6 in. in diameter)
Bulk (not made of metal or glass)
Electronics
Metal
SUSTAINABLE OPTIONS
Donate
There may be someone in need of the functional items you are discarding. Reach out to social service organizations that will pick up donated goods.
Re-use or Repair
Some items may just need a coat of paint or a good cleaning. Before you get rid of them, check them out. Maybe someone else can use you.
Haul-Away Service
Many appliance dealers include haul-away service when they deliver new ones.
Tree Mulching
When you hire a tree service, make sure to select one that will chip the wood into mulch on sit, or will haul away the brush.
 
HOW CAN I SCHEDULE A SPECIAL PICK-UP?
You can schedule either online or by calling customer service at 703-802-3322, TTY 711.
FOR MORE INFORATION
To learn more or ask questions about the changes, contact our Solid Waste Management Program at 703-802-3322 or via email at DPWESSWMPTrashCS@fairfaxcounty.gov.