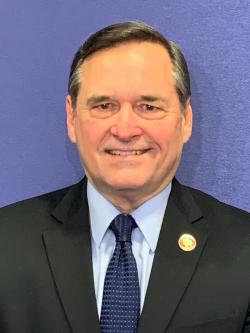 At its meeting on Tuesday, Jan. 26, the Fairfax County Board of Supervisors appointed Deputy County Executive for Public Safety David M. Rohrer as interim police chief, effective Feb. 1, 2021.
Rohrer headed the Fairfax County Police Department from July 2004 to October 2012, when he was appointed to the newly created position of deputy county executive for public safety. Current Police Chief Edwin C. Roessler is set to retire next month.
"I work closely with Deputy County Executive Rohrer on a daily basis and I could not be more confident in his ability to see the Police Department through this period while we search for a new chief," said County Executive Bryan Hill. "His experience and skill will allow for a seamless transition."
Fairfax County is conducting a nationwide search for the next chief of police. The county has engaged a firm to assist with the search, including conducting community outreach efforts. (A community survey remains open through Sunday, Jan. 31.)
In his role as Deputy County Executive for Public Safety, Rohrer oversees the Police and Fire and Rescue Departments, the Department of Public Safety Communications (9-1-1), the Office of Emergency Management, the Department of Animal Sheltering and the McConnell Public Safety and Transportation Operations Center. He also has a liaison role with the Sheriff's Office, the courts and the Health Department (for emergency management issues).
Rohrer began his career as a patrol officer with Fairfax County in 1980 and moved to the department's tactical section five years later. During his 32-year tenure he moved up through the ranks of the department as captain, major and deputy chief of police.