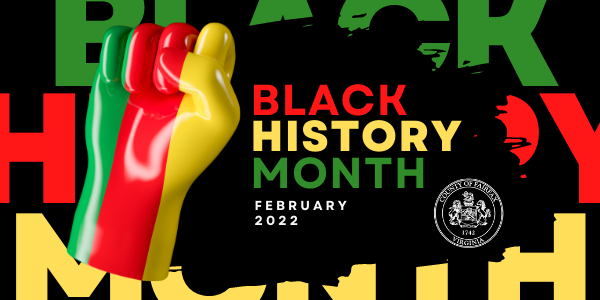 Several events are scheduled this month to celebrate Black History Month.
Area residents and students are encouraged to participate in the Black/African American Experience Project.
Black History Month, celebrated every February, serves as both a celebration and a powerful reminder of the struggles, progress and accomplishments of African American leaders across the United States. Fairfax County is committed to advancing equity and opportunities for Black Americans and has several activities to celebrate the accomplishments and contributions of Black leaders.
Watch this short video from our Police Department as officers reflect upon the impactful historical places that exist and events that took place here in Fairfax County. 
The Story of Gum Springs
Gum Springs is the oldest African American community in Fairfax County, having been officially established in 1833. Today, the neighborhood continues to thrive with over 2,500 residents - up to 500 of whom are direct descendants of the original families.
EVENTS
Join Fairfax County Public Library for author talks, history lectures, movies and more.
Title: Film—Traveling While Black Virtual Reality Experience
In "Traveling While Black VR," the immersion of 360° footage draws viewers into living history lessons told around a booth in Ben's Chili Bowl. The Washington, D.C. restaurant has been a mainstay of the African American community since 1958, bearing witness to significant Civil Rights milestones that are woven into the film in powerful snippets of footage. The Traveling While Black Virtual Reality film was directed by Academy Award-winning director Roger Ross Williams.
This experience is being offered through Saturday, Feb. 12.
Time: Wednesday-Saturday, noon–8 p.m. and Sunday, noon–6 p.m. Closed on Monday and Tuesday.
Free admission. Register for a one-hour timeslot.
Title: A Celebration of Black History (Virtual)
To celebrate Black History Month, Fairfax County, in partnership with Cox Communications, will present a virtual Black History Program. Join community leaders, guest speakers and entertainers to explore the past, present and future and honor the black community in Fairfax County. Featured guests include Jeff McKay, chairman of the Board of Supervisors; Bryan Hill, county executive; Rodney Lusk, Lee District supervisor; Karla Bruce, chief equity officer; Lynette Clark, Cox Communications and more. View complete list of speakers and performers.
Friday, February 11, 2022
Time: 7–8 p.m.
The program can be viewed on Channel 16 or via live stream. View on demand at fairfaxcounty.gov/cable beginning Monday, Feb. 14.
Title: Lunch and Learn Program
Sully Historic Site will present a lunch and program focused on Black History Month. The program includes a visual presentation and hands-on elements. Bring your lunch and your questions, as discussion is welcome. This program is appropriate for those age 9 and older.
Thursday, Feb. 17
Time: Noon–1 p.m.
Location: 3650 Historic Sully Way, Chantilly
Title: Lift Every Voice Lecture (Virtual)
Green Spring Gardens is offering a Virtual Winter Lecture as part of the Fairfax County Park Authority's acknowledgment and celebration of Black History Month. Join us at 1:30 p.m. for a one-hour virtual lecture entitled, "Lift Every Voice." From sea to shining sea, Black gardeners have made rich contributions to American garden history.
Sunday, Feb. 20
Time 1:30 p.m.
This program is appropriate for participants 16 years of age and older.
Cost: The cost per person is $10. Registrants will be emailed a Zoom link before the presentation.
Visit Fairfax has compiled a list of 20 ways to celebrate, visit and experience Black History Month across the D.C. region.