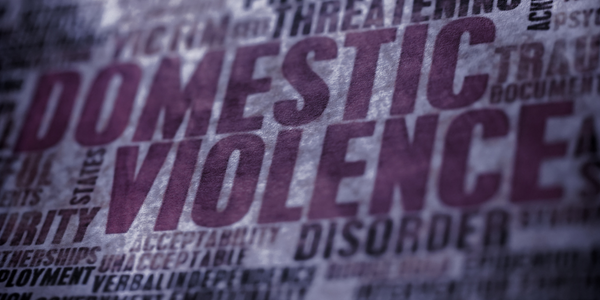 About 4.5 million people nationwide have had an intimate partner threaten them with a gun.

In Virginia, about 32% of all homicides are related to intimate partner violence.

In 2019, the Virginia Office of the Chief Medical Examiner reported that most victims of intimate partner homicide were women (about 74.5%) and that about 65% were killed using a firearm.

If someone has been served with a final protective order in Fairfax County, they cannot have, carry or buy a gun.
Domestic and sexual violence experts note that there is a significant correlation between intimate partner violence, domestic violence and firearms.
According to Angela Yeboah, advocacy services program manager with Domestic and Sexual Violence Services (Department of Family Services), "60% of intimate partner homicide victims are killed with guns, and a gun in the home where there is domestic violence makes it five times more likely that a victim will be killed."
As part of Domestic Violence Awareness Month in October and Family Services' focus on domestic and sexual violence and firearms surrender, Yeboah was featured on the Oct. 5 edition of the "County Conversation" podcast.
LISTEN
The "County Conversation" is a podcast featuring employees and subject matter experts from the Fairfax County Government discussing programs, services and items of interest to residents of Fairfax County. Listen to past episodes. To find other county podcasts, visit www.fairfaxcounty.gov/podcasts.
WHO TO CONTACT FOR HELP
If you would like to speak to someone about domestic or sexual violence, call the Domestic and Sexual Violence 24-Hour Hotline at 703-360-7273, or the Domestic Violence Action Center at 703-246-4573.
If you are in danger or the situation is life-threatening, call 9-1-1. If unable to call, you may also text 9-1-1.
FIREARMS SURRENDER INFORMATION
If someone has been served with a final protective order in Fairfax County, they cannot have, carry or buy a gun. The person has 24 hours to do the following: 
Take their gun to the Sheriff's Office; make an appointment by calling 703-246-4405.
Sell or give their gun to a dealer.
Sell or give their gun to anybody legally allowed to have a gun.
If someone has a concealed carry permit, they must give the permit to the court that issued the final protective order.