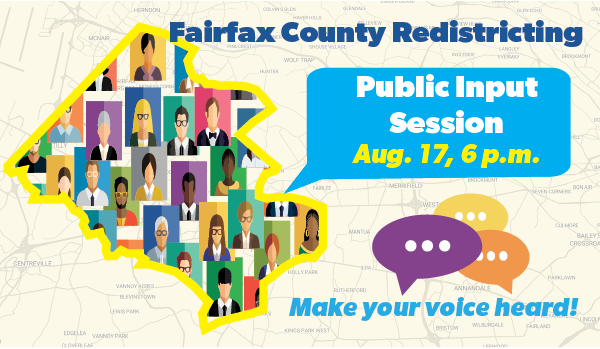 Fairfax County's Redistricting Advisory Committee seeks the public's input at a meeting on Aug. 17, at 6 p.m.
This two-hour meeting is solely focused on hearing from residents and organizations — and it will be held at the Fairfax County Government Center, 12000 Government Center Parkway, Conference Room 11, Fairfax.
The committee wants the public's input now as it gets ready later this month to redraw new recommended electoral maps for the Fairfax County Board of Supervisors and School Board.
People or groups that wish to speak are encouraged to sign up in advance, although this isn't required to testify. There are also several options for providing input on Aug. 17:
In-person
By phone
By video
By writing before
Residents and organizations will be given three minutes to speak. The public is encouraged to share their thoughts on any aspect of the redistricting process, including:
How many districts there should be for the Board of Supervisors and School Board
What communities or neighborhoods should be included in a specific district
What is important to understand about a community, including what makes it unique, challenges it faces or needs for political representation
What are the positive or negative effects of the current electoral boundaries that were put in place 10 years ago as a result of the last redistricting process
This meeting will be broadcast live on Fairfax County Government Channel 16 and it may be viewed live online as well.
While the Aug. 17 meeting will the public's first chance to offer input, it's not the last, officials say.
Late in August or early in September, the public will be able to submit their own maps and they can provide feedback, revisions and comments on the committee's or other's proposed maps.
As required by law, the county must consider redrawing its political boundaries following the U.S. Census that is conducted every 10 years. This is done to ensure proportional representation as populations grow and shift over time.
The Board of Supervisors appointed the 20-member redistricting committee to recommend new electoral maps.
For more information, visit the county's redistricting webpages.
#  #  #