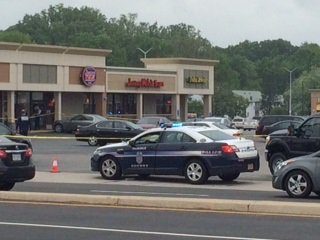 A man pled guilty on August 9, 2017 to a number of charges stemming from last year's jewelry store robbery which led to an officer-involved shooting and two carjackings. William Franklin, 25 of Waldorf, entered an Alford plea for the charge of abduction for pecuniary benefit, and pled guilty to the following in lieu of going to trial:
He was arrested on the evening of May 23, 2016 just two days after the crimes took place. Franklin had just robbed Dubai Jewelers in the 7000 block of Brookfield Plaza in Springfield when an officer arrived on scene. Franklin fired shots at the officer and struck an innocent motorist who was nearby. The officer was not injured. Franklin fled and carjacked two drivers while continuing to elude officers. The shooting victim survived and nobody was hurt during either carjacking.
Thank you to our Commonwealth Attorney's office and all officers, detectives, supervisors, entities and agencies who were involved throughout the course of the investigation and prosecution. Our thoughts are with our officer and all victims impacted by these crimes.
Click on the links below to view information previously released on this case.
https://fcpdnews.wordpress.com/2016/05/21/armed-robberyofficer-involved-shootingcarjacking/
https://fcpdnews.wordpress.com/2016/05/21/update-robbery-officer-involved-shooting-carjacking/
https://fcpdnews.wordpress.com/2016/05/24/second-update-arrests-made-in-robberyofficer-involved-shootingcarjacking/
https://fcpdnews.wordpress.com/2016/05/31/updatejewelry-store-robberyofficer-involved-shootingcarjacking-in-the-springfield-area/
https://fcpdnews.wordpress.com/2016/08/01/fourth-update-franconia-robbery-officer-involved-shooting-carjacking/                     
###
To request this information in an alternate format, call the Media Relations Bureau at 703.246.2253.  TTY 703-877-3715